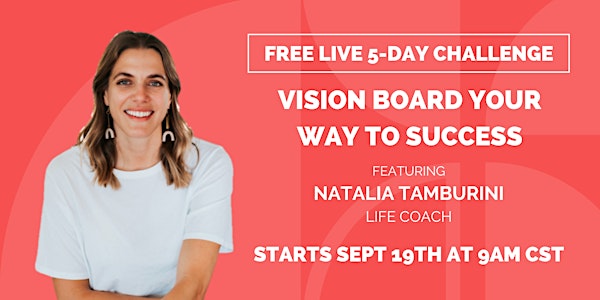 Vision Board Your Way To Success Free Live Challenge
Learn the science of vision boarding and how to use your innate creativity to manifest your future.
About this event
The mind is a powerful tool — your thoughts directly impact what you create in your life. Vision boarding can be used to physically manifest your wildest dreams into reality. It allows you to go from thought to vision board, and then from vision board to life. Whether you struggle with imposter syndrome and self-image, or you're looking to approach your goals in a new way, learn how to use visualization to your advantage.
In this free live daily 5-day challenge, Coach Natalia will teach you:
🎯 What vision boarding is and how it can propel your goals
📝 How to use a vision board to set clear goals
⚡ Practical steps to visualizing in an impactful way
💗 How to use your vision board after it's made to stay motivated and focused
HOW IT WORKS
Step 1 - Register for the challenge to receive all the details and be entered to win a thank you prize.
Step 2 - Mark your calendar so that you can be sure to join us live (or watch the replay).
The challenge will be going down daily on Instagram M-F at 9am CT, starting Sept 19th. Reminder - the challenge videos will only be available for a limited time, and you must be registered in order to be entered to win the drawing.
Step 3 - Join us LIVE each day where you will be given a simple, yet powerful, challenge to complete that day so that by the end of this week, you are already vision boarding your way to success!
There will be dedicated Q&A time, so bring all of your manifestation and vision boarding questions.