Event Information
Location
Private Residence
0000
Miramar, FL 33023
Refund policy
Contact the organizer to request a refund.
Eventbrite's fee is nonrefundable.
In this interactive play shop, learn how to finally make peace with your past so that you can create a future that truly lights you up!!!
About this event
The New Year is here and with it comes new adventures, new dreams and perhaps a few dreams we still have yet to manifest.
Did you know that there is a science to manifesting?
Yes, that's right, there's a process to creating dreams into reality.
Join us as we dream together and collectively create inspiring vision boards to help us create and bring to reality our goals and dreams for 2022!
Using ancient Feng Shui principles and other mystic processes to lead us closer to those goals and dreams, we'll bring our futures to life.
It's Time to Create Your Future!!!
For many, 2022 is being predicted as a year of huge change, a shift in perspective, and where crystallization of personal and collective visions and intentions has the power to alter our individual as well as collective consciousness and open the doorways for true transformation to occur.
Opening up our hearts and maintaining a clear path for transformation, comes only with intention and true desire.
In order to bring in new energy, we must be willing to release old habits, let go of limiting beliefs, and allow space for the old energy to shift.
In this interactive play shop, we'll share proven practices and ancient tools that do just that!
Using these ancient techniques which have been utilized for centuries, you'll leave feeling confident that your dreams are coming to fruition even if you don't know how.
As spiritual beings, are job here on this planet is to have faith, trust in the process and allow miracles to manifest.
By co-creating with the divine, limitless miracles can and do unfold right before our own eyes.
Join us for this Vision Board Your Life event experience to make your dreams a reality too!
During this play shop, you will:
✔️ Be led thru a series of powerful meditations, clearing processes and visualizations to help you get crystal clear about your future goals and aspirations.
✔️ Be guided thru a letting go meditation where you will release what no longer serves your highest good, leaving behind parts of your old self once and for all.
✔️ Be guided through a forgiveness meditation that will allow you to make peace with your past and those that you may have unresolved ties with. Aka a spiritual chord cutting process.
✔️ Be guided thru a powerful future self meditation that will introduce you to your higher self. (This meditation I did over 10 years ago and the results are astounding!)
✔️ Be provided tools and techniques to support you when remnants of old limiting beliefs pop up.
✔️ Be guided thru a beautiful visualization process that will support you in calling in your future vision.
✔️ Have a fun, energetic morning with music, dance, play, creativity and bliss while connecting with others and creating your vision board with community, friends and family.
✔️ Have a lovely assortment of nutrition and basic food selections to keep you energized, full and happy.
✔️Be supplied with magazines, scissors, glue, colored markers and pencils as needed!
Hosted by your play shop event facilitators, Regena from Internal Peace Now & Paty with Mariposas Healing.
************************
When:
Sunday, January 30th 9am - 1pm
Private Residence in Miramar - Address to be disclosed after registration.
Event will be live with streaming option available.
Investment in Your Future:
$57 Regular Entry - No walk ins
$107 VIP Upgrade- Includes (2) 30 mins coaching future visioning sessions to lock in your personal vision. (Save almost $200 - normally these sessions go for $150 each)
FAQ:
*What if you cannot attend the live event?
No problem, a virtual option is available as we'll be streaming live from the event. Supplies to be picked up prior to the event. Arrangements made with participants as needed.
*Will I be able to take my board home with me?
Absolutely, start manifesting immediately.
*If I upgrade, can I do my sessions virtual?
Absolutely, all sessions are available online via zoom or relatable technology. To be arranged with Regena and Paty, your hosts.
*There will be no refunds, we trust you are committed to your goals and support that intention. Accommodations to be arranged for emergencies and unexpected cancellations only. Thank you for understanding.
*****************************************
For deeper spiritual understanding:
The spiritual significance of the year 2022
The Numerology Meaning of 2022 Means Hope Is Ahead. Manifesting miracles, achieving balance and new opportunities are highlighted by the number 2022. Focusing on each aspect of life will increase your likelihood of success.
Focusing on the big picture and paying attention to details will help you turn your most ambitious dreams into a reality in 2022. Ensure that all aspects of your life are harmonious and balanced so that you will not lose sight of what is important to you.
A clear vision, as well as a realistic plan, are vital to reaching your dreams, according to the symbolism of 2022.
As you can see, you have the opportunity to completely transform life from where it is now to where you dream it to be, when you are ready to truly take each area on and LIVE LIVE LIVE.
Begin your journey now and be a part of the change of our planet by looking within and bringing forth.
Why is a Vision Board Important?
A vision board is a powerful Law of Attraction tool used to help clarify, concentrate, and maintain focus on specific life goals and declarations.
Creating and using vision boards serves you to:
Identify your vision and give it clarity.
Reinforce your daily affirmations by visually seeing your vision as a photographic representation.
Keep your attention on your intentions.
Remain aligned with your vision (support in preventing distractions).
Viewing your vision board each day aligns your brain with the outcomes you most de-sire (to beget, to be the sire of) to attract.
See you on Sunday, the 30th. Address will be disclosed after registration.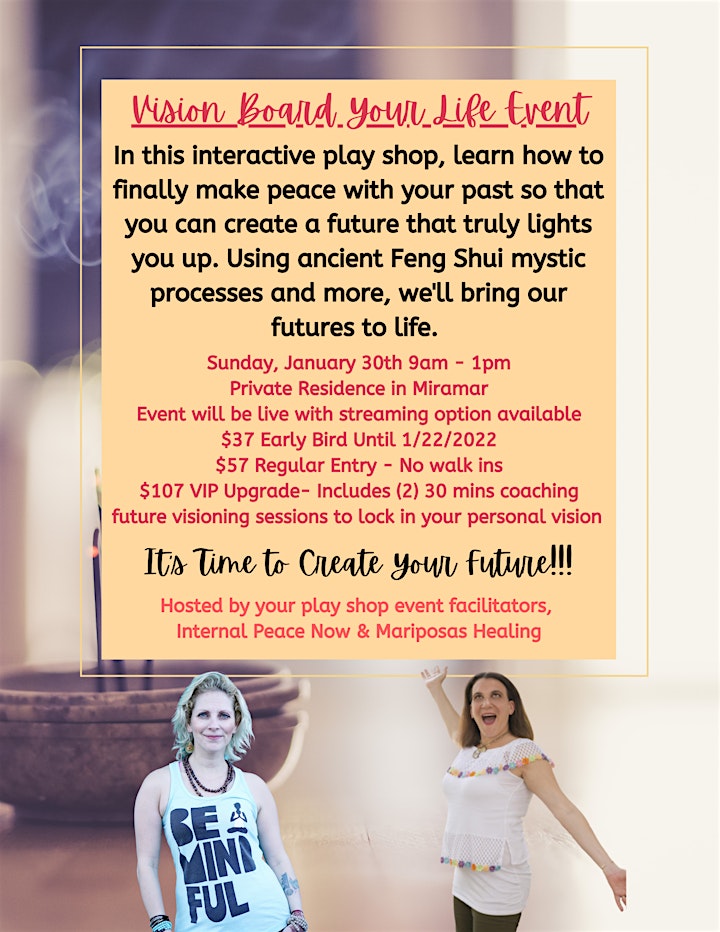 Date and time
Location
Private Residence
0000
Miramar, FL 33023
Refund policy
Contact the organizer to request a refund.
Eventbrite's fee is nonrefundable.