Sales Have Ended
Ticket sales have ended
Ticket sales have ended for this event but more events are in the works - stay tuned!
Sales Have Ended
Ticket sales have ended
Ticket sales have ended for this event but more events are in the works - stay tuned!
"A vivid imagination compels the whole body to obey it." ~ Aristotle
About this event
UPDATE: this event will only be VIRTUAL due to Covid safety concerns.
Why do we need a virtual vision board in 2022? One way to clarify, achieve and maintain focus on a goal or life objective is by visualizing it. A vision board can help us imagine what a positive future may look like. Envisioning a promising future can boost positivity, overall mood, and create a feeling of optimism. Such feelings have been researched to lead to opportunities and enhance our chances for success.
Join us in-person at Living Room Plant Co. and Virtually as we pave a new future for ourselves and create 2022 with the intention of optimism, health + joy.
In order to provide a safe experience for those attending in person we will have a limited number of seats available while requiring participants to bring proof of vaccination and wear a mask. We are also offering this workshop virtually for those preferring to attend remotely.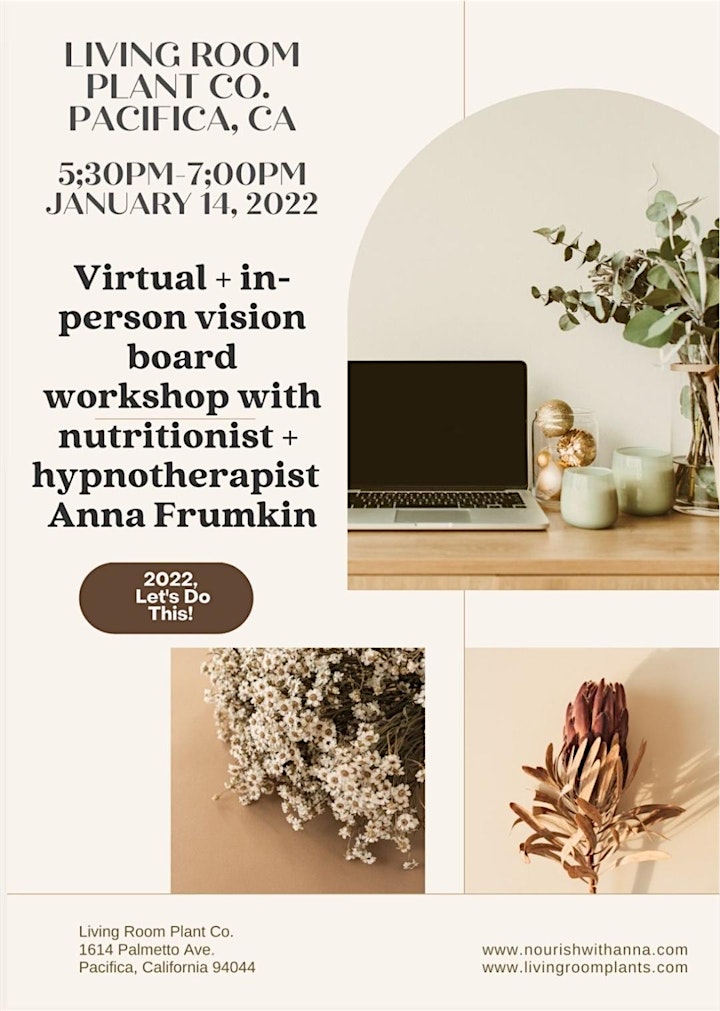 What you will need:
a computer
notebook
Google Docs -or- Microsoft Word -or- Canva
proof of vaccination (*in-person attendees only)
a positive attitude :)
About the host:
Anna Frumkin is a certified holistic nutritionist + hypnotherapist. She is the owner of Nourish with Anna - a virtual nationwide health + wellness service. Anna has worked with clients for years on issues ranging from habit control, limiting beliefs, lack of confidence, weight gain, fatigue, low energy, crash dieting, food confusion, digestive issues (IBS, acid reflux), blood sugar imbalances, autoimmune conditions and more. Anna works with clients remotely all over the country via video chat + phone. Her approach is based on sound science, mindfulness and compassion.
Organizer of Vision Board Workshop w/ nutritionist + hypnotherapist Anna Frumkin @ LRPC