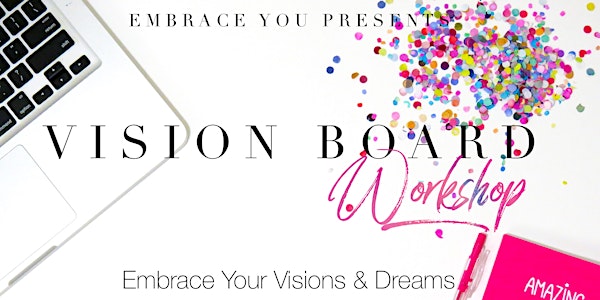 Vision Board Workshop
When and where
Location
Buttons Restaurant Fort Worth 4701 West Freeway #Suite 100 Fort Worth, TX 76107
Description
What is a Vision Board Workshop and why you need to attend?
Based on the principles of the Law of Attraction, a Vision Board is creating a visual representation of what you envision for your life. It allows you to define and clarify your aspirations, reinforce them and keep your intentions focused.
You can put anything on the board: where you want to travel, financial goals, your desired clothing image, your career path, re-branding goals, the type of home or car you want, do you want children, a family…
Whatever you want in this lifetime!
And once you create yours, it's there to keep you visually inspired and motivated to move toward it in life.
This is not just any vision board workshop! At our workshop we will discuss the various TYPES of Vision Boards, the 5 STEPS to creating a Vision Board and the TOP 4 things that can get in the way of creating an effective vision board.
WE will provide: Boards, glue, scissors.
Tools YOU need to bring: Magazines, clippings, personal images, powerful photos, stickers with bold words
Join us for this FUN, interactive and empowering workshop event that will encourage you to Embrace Your Vision and Dreams!
*Proceeds from this event will fund the mission and vision of Get POSH Ministry, Inc.; a 501 (c)3 non profit whose mission is to empower and build self-esteem in disenfranchised women and teen girls.