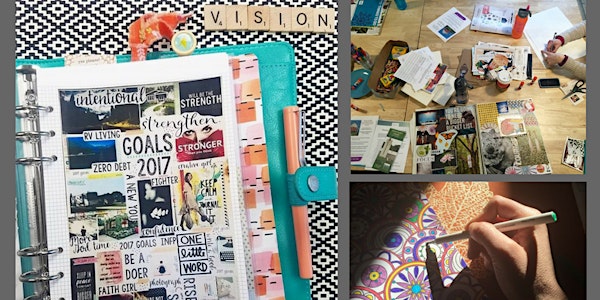 Vision Board Workshop
When and where
Location
Hawthorn Farm Retreat Center 315 North Street Medfield, MA 02052
Refund Policy
Refunds up to 1 day before event
Description
Gather. Visualize. Create. Manifest.
What life goals do you have?
What do you dream of?
What do you hope for?
Can you imagine your life - or this world - differently?
Maybe if we visualize what could be, we can manifest it into a reality. Imagine the possibilities!
Yet we may feel challenged to do this type of thinking and dreaming because of time constraints, the "busy-ness" of life gets in the way, fear, or not knowing how to begin. As we embark on a new year, you're invited to break free of these challenges and gather to reflect on the old and prepare for the possible.
Join us in a warm, relaxing space, where Nicole "Coco" Lewis will lead participants through a visualization that will truly inspire and prepare for the creative process of vision boarding. A vision board is a tool to help clarify, focus or manifest something you want: a goal, an intention, a dream or a hope. Using magazine clippings, other visuals and craft supplies, each participant will collage a vision board to take home.
Light snacks and all the materials and supplies for creating a vision board will be provided. If you have a journal you would prefer to use and/or other materials you would like to include, feel free to bring them with you.
No expectations or previous art skills needed…really!
Testimonials

"Around the start of the new year, I took Coco's vision board class. As a mom, it was a wonderful way to set aside some time myself and think about goals and priorities that I have. It felt like such a luxury to sit around with others focused on all of our lives. We all shared our motivations for coming to the class. Then Coco led us through a guided visualization, which she certainly has a talent for. It was easy to follow her quick visual journey. From there we set about the crafting part of making our own board with the provided craft supplies and magazines. It was a very relaxing process. I look at my board all the time - reminding me of that time we had to create and a reminder to do the things I love. Over this last year, I have done more of the things I love."
-Anne I.
"Coco did such a great job leading us through a centering mediation and helping us to get into the right mindset to create a vision board. I left feeling energized about my future and keep my board on my desk as a reminder of a great day and what is important to me. If you are feeling like you need focus, a vision board with Coco's guidance will be a great tool."
-Jackie G.
"I highly recommend the Vision Board workshop with Coco. She is a very experienced facilitator and created a safe, relaxed, inspiring space for us all to stop, breathe and think about what we are doing in our lives and what we might want to change.I was surprised to see which images, words and inspirations spoke to me when we walked through the visualization process. Coco supported the group with her guidance and inspiring approach to allow for the creative juices to flow. It's a great way to process for change or affirm all the good things in our lives. Take the time to treat yourself - you won't regret it. "
-Alex C.
Want to learn more about how and why visualization works?
Psychology Today - "Seeing is Believing: The Power of Visualization"
Huffington Post - "The Reason Vision Boards Work & How to Make One"
Neuropsychologia published this interesting study, "From Mental Power to Muscle Power--Gaining Strength By Using the Mind"
Facilitator's Bio

Coco is...(in no particular order)

Mother
Visionary
Empath
Forward thinker
Friend
Creative
Wannabe writer
Believer
Connector
DIY beauty care maker
Owner of Nourish by Coco Lewis
Group facilitator
Caretaker of plants and gardens
Farm-to-table food fan