VISION BOARD SUMMER SOLSTICE FREE WORKSHOP 5 pm Friday June 21 via teleconference EVERYONE WINS A PRIZE !

Friday, June 21, 2013 from 5:00 PM to 6:00 PM (PDT)
Event Details
Join us for a free one hour workshop on how to use vision boards this summer to create your best summer ever. 
DISCOVER your POWER WORD for this summer. 
FIND OUT WHAT ARE THE TOP 5 MISTAKES most people make in creating a summer vision board
FIND OUT THE ONE THING THAT WILL MAKE YOUR VISION BOARD POWERFUL.
HEAR and participate in a LIVE FREE VISION CARD READING that will help revolutionize your life.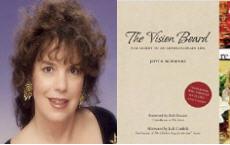 as seen on E! Entertainment TV, FOX NEWS, PBS and more than 700 radio and TV stations across the country. See a free chapter of THE VISION BOARD BOOK at: http://tinyurl.com/seeinside book,

WIN A FREE PRIZE -- everyone will get a free prize just for attending value $50 or MORE!  WIN A FREE VISION CARD READER CLASS VALUE: $149.00
Organizer
THE VISION BOARD INSTITUTE founded by Joyce Schwarz offers the following services:
*Creation of Giant Vision Boards for Charity Benefits & Corporate events (call for details and price list)
*Accreditation as a Certified Vision Board Coach joyceschwarz@gmail.com
*Vision Board creation classes and workshops for corporations, churches, nonprofits and community groups and private parties & events, joyceschwarz@gmail.com