Description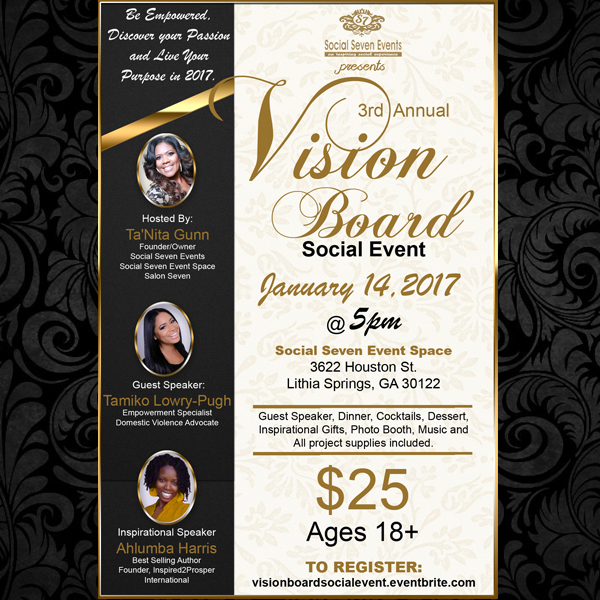 The purpose of this interactive VISION BOARD SOCIAL EVENT is to help EMPOWER you to get mentally prepared to step into your PASSION, live your PURPOSE and create a life of happiness and prosperity in 2017! Start the new year off right at this event and be prepared to leave motivated and inspired, while meeting other women just like yourself all striving for an EMPOWERED & PROSPEROUS LIFE!
NEED BUSINESS EXPOSURE? REGISTER AS A GIFT BAG BUSINESS SPONSOR FOR $15!
FAQs: What is included with my event ticket price? TICKET PRICE INCLUDES: GUEST SPEAKERS, DINNER, COCKTAILS, DESSERT, INSPIRATIONAL GIFTS, PHOTO BOOTH, MUSIC & ALL PROJECT SUPPLIES.
If I am unable to attend the event and purchase, a ticket, can I receive a refund? No. All sales are final and non-refundable
Do I have to print out my event ticket to attend the event ? Although it is recommended, it is not mandatory. We will have a accurate record of all ticket sales the day of the event.
How much is parking? Parking is FREE!
Business Sponsors who would like to send business promotional items in for Gift bag placement, drop off will begin Saturday, December 17, 2016 at Social Seven Event Space, 3622 Houston St. Lithia Springs, GA 30122.