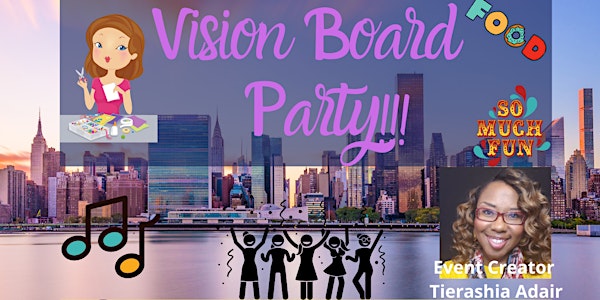 Vision Board Party!!!
Bringing women together to creatively write the vision down and set it before them, while enjoying good food, conversation, dancing and more
When and where
Location
21131 Pine Island Rd 21131 Pine Island Road Prairie View, TX 77445
About this event
2020 is not over and 2021 will soon be in!!! This LIVE event will provide a time for you to
Seek God in agreement with other Christian women concerning His plan for your life finishing up this year and for 2021
Create a vision board that covers your "why" in your purpose and depicts where you are going spiritually, personally, and professionally
Fellowship and have a good time in a safe and intimate environment
Details for this Event
There are ONLY 12 seats available for this date, so grab your seat ASAP.
CDC and county guidelines for social gatherings will be followed.
Masks must be worn.
All supplies with the exception of some specific pictures you must find yourself that pertain to your vision will be provided.
Lunch will be provided.
Women ONLY (updated)
$5 of every ticket sale will be donated to the Waller Pregnancy Care Center.
Tierashia Adair is the founder and CEO of T. Adair Enterprises, LLC, where she is "Building the City by Building the People through Faith, Purpose and Empowerment." T. Adair Enterprises, LLC host events, publish writings and e-courses of various formats, provide group and one-one-one coaching and educational consulting and advising. Everything that is planned, created and offered is with the intent to encourage people and see them live their best lives and walk out their God-given purpose.
If you have any questions, comments, concerns, or would like to submit payment through a PayPal invoice or Cash App, please email tadairenterprises@gmail.com or call 936-857-3328 or 713-724-3946 and leave a message.