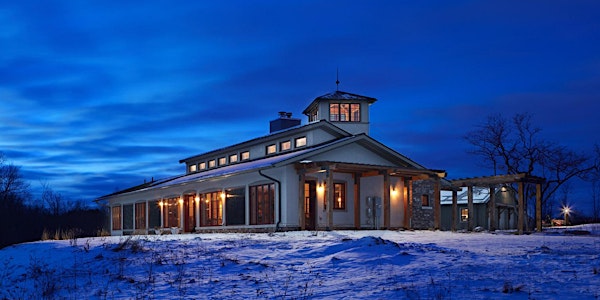 Visible Green Home® VIRTUAL Burh Becc Earth Day Celebration Tour 2020
Location
The Comfort of Your Own Home!
United States
Sales Have Ended
Registrations are closed
We are sorry but registration for this event has closed. Please visit our website for additional information on other upcoming tours, open-houses, seminars and other events of interest!
Description
"Life starts for each of us in a world already underway, a world with a shape crying out for better shaping – and each of us has the capacity to respond to that call. Burh Becc at Beacon Springs Farm is our opportunity and our response, a vision offered to shape a better world for generations to come"
-Tom and Marti Burbeck, Owners of Burh Becc at Beacon Springs Farm
The Homes of the Future - Today™
We find ourselves in challenging times. Times in which we are given the opportunity to grow into a new normal, a new world. Going back should not be our goal. Rather we are presented an opening to create a brand new possibility. One that truly embraces and celebrates all of humanity and nature.
With that intention, now more than ever, The Visible Green Home® tour series is excited to present the FIRST EVER, VIRTUAL, Burh Becc Earth Day Celebration Tour- a Certified Living Building Challenge® Home: Net Zero Energy, Net Zero Water, Net Zero Waste.
In this very special virtual, multimedia, live event you will learn about all the aspects of this groundbreaking home including its genesis, design, systems, and features that helped it to become one of two fully-certified Living Building Challenge® residences in the entire world... all from the comfort and safety of your own home!
Just before the tour starts you will be sent an invitation with an exclusive link for you to join the virtual meeting space using Zoom® as the online platform.
This will be conducted in a unique manner such that, unlike the typical online webinar, each and every attendee will be given the chance to ask questions through the virtual portal. We are taking on a bold challenge- to provide a direct, personal response to every single inquiry. Every single one!
Looking forward to seeing you at this live virtual tour of this history-making home!
-Michael Klement, AIA