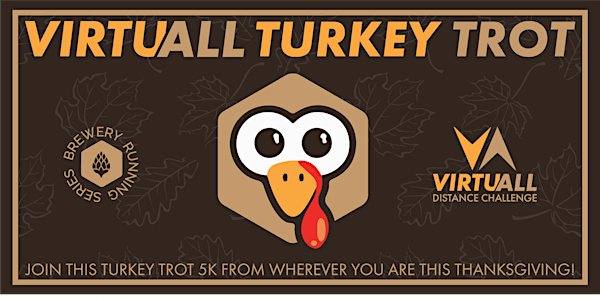 VirtuALL Turkey Trot | Part of the 2022 VirtuALL Distance Challenge
Join this VirtuALL Turkey Trot from wherever you are this Thanksgiving!
Refund Policy
Contact the organizer to request a refund.
About this event
VIRTUALL TURKEY TROT
Complete a 5k course between 11/24 -11/27 for a chance to win prizes!
Perhaps one of the most memorable parts of the Thanksgiving Holiday is not the turkey, but the 'Trot' that precedes it! In fact, stats show Thanksgiving Day is THE MOST POPULAR day to run! Over 1.17 Million finishers recorded in 2018. That's A LOT!
Rich Harshbarger, CEO of Running USA. says: "We see [Turkey Trots] as healthy activities for the whole family on one of the biggest holidays of the year. The vast majority of participants are running with partners, children, other family members, friends, and even multi-generational branches of their family tree."
Whether or not you get to run together in person this year - rally the crew to celebrate Thanksgiving with a VirtuALL Turkey Trot 5k!
Commit to completing a 5k distance between 11/24-11/27. Run, walk, jog, hike, bike, skate, swim, crawl - whatever goes!
All registered participants receive:
VirtuALL Collector's State Magnet of your *choice!
Access to our VirtuALL Distance Challenge tracker app, training calendar, support tools and community
A chance to win sweet prizes
And more!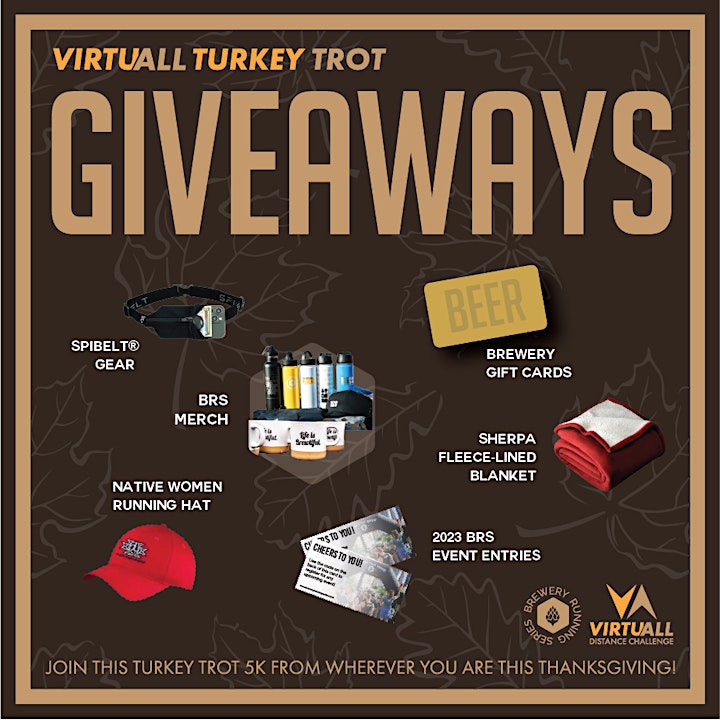 HOW IT WORKS:
STEP 1:  Register for this event - choose your desired Collector's State Magnet and sock size at check out
STEP 2:  Complete a 5k between 11/24-11/27! Track your miles in our VirtuALL Distance Tracker App
STEP 3:  Earn your collector's magnet, Run Now, Gobble Later socks and more! Go the distance and celebrate! We're here to cheer you on every step of the way.
Sign up today! You'll receive a detailed email with instructions for participation after you have registered.
Join this VirtuALL Turkey Trot 5k from wherever you are this Thanksgiving!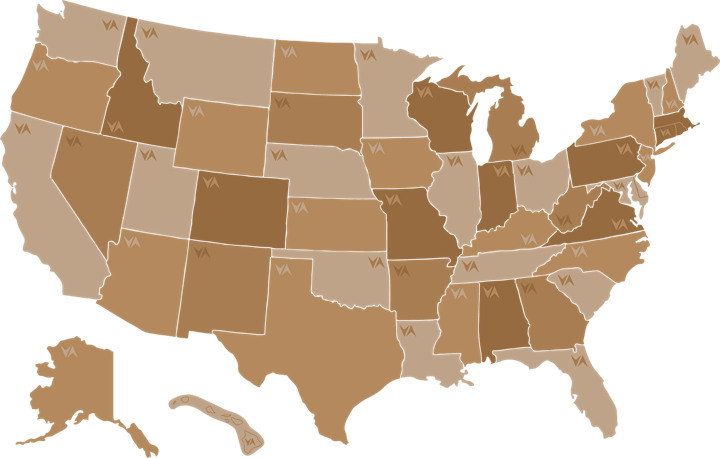 Commemorate wherever you are, or wherever you want to be!
*Not sure how to pick your Collector's State Magnet? Here's some ideas:
Celebrate your 'Home State' and pick that option at check out
Pick the state where you are traveling to this holiday
Pick the State where you wish you could travel to this holiday
Are you an Unlimited Pass VirtuALL Participant? Consider this a 'Wild Card' and pick a State that you need to finish to complete your VirtuALL USA Magnet Map!
More details:
You do not need to participate in a sanctioned 'Turkey Trot' race event to be a part of this (VirtuALL) challenge - though you can certainly count that if you are!
Simply commit to completing a 5k distance anytime between 11/24-11/27. Track your mileage in our VirtuALL Distance Tracker app and earn your goodies!
Invite your friends and family to join you! Anyone from anywhere can participate in this VirtuALL Turkey Trot Challenge!
--
Our mission is to: Be active. Have fun. Give back! A portion of all proceeds from our events support local nonprofits. Over $240k raised to date!
Proceeds from this event supports: Native Women Running
To encourage and feature Native women runners in the running community on and off the reservation. Community. Inspiration. Motivation. Visibility.
--
Ready. Set. Let's GO!
Questions? Contact us: info@breweryrunningseries.com
Go anywhere. Go everywhere.
More about the the 2022 VirtuALL Distance Challenge
Our VirtuALL Distance Challenge is a by-product of running during the pandemic, shifting our attitudes away from not being able to go anywhere - to LET'S (virtuALLy) GO EVERYWHERE!
We've tied distances to physical destinations across the US, and now the world. You can run, walk, jog, hike, bike, ski, skate, swim - whatever goes! 📈 Log your activity in our VirtuALL Distance Tracker app and see your miles add up.
Do one, or collect them all! Earn a commemorative medal and magnet (+more depending on your registration type) to represent your completed Distance Destination. Magnets assemble (as pictured above) to create a full map of the USA.
Stay tuned! 2023 VirtuALL Distance Challenge details coming soon.
Be active. Have fun. Give back! A portion of all proceeds supports our nonprofit partners like The Range of Motion Project - dedicated to providing prosthetic care to those without access.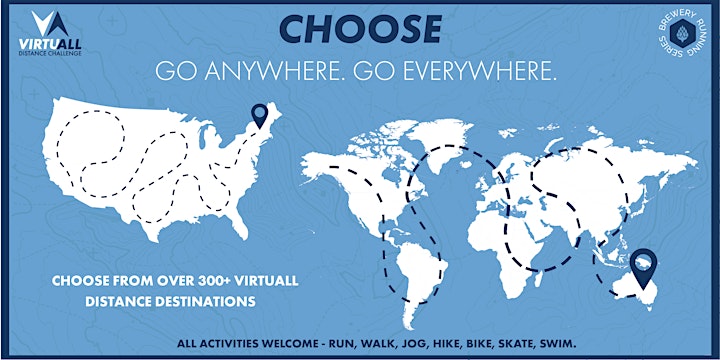 OTHER PERKS ALONG THE WAY:
(Registration gives you access to these items)
Social network and accountability team to keep you going! We're ALL in this together.
VirtuALL Challenge support tools and tips from the experts on key topics: strength/endurance, mechanics/form, FUEL and core stability/posture
Your chance to win giveaways and bonus prizes like a month's supply of Rise Coffee
And more!