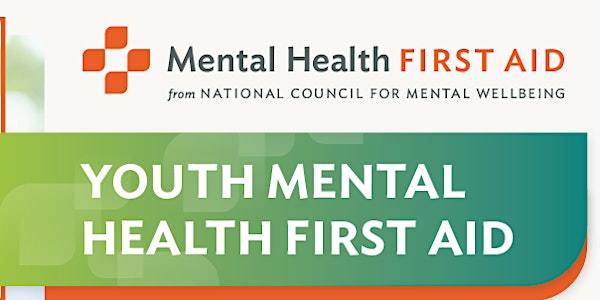 Virtual Youth Mental Health First Aid
YMHFA teaches you how to identify, understand and respond to signs of mental health and substance use challenges among children ages 6-18.
By Community Advocates Public Policy Institute
Date and time
Friday, April 1, 2022 · 7am - 1pm PDT
About this event
Please Note: The Youth Mental Health First Aid course consists of a 2-hours of self-paced content followed by a 4.5 hours of instructor-led training. The self-paced computer training must be completed at least 3 days prior to the beginning of the course and the 1 hour self-paced post session computer training must be completed as well in order for attendees to obtain certification.
Registration ends: March 21, 2022 at 12pm CT
Youth Mental Health First Aid is designed to teach parents, family members, caregivers, teachers, school staff, peers, neighbors, health and human services workers, and other caring citizens how to help an adolescent (age 12-18) who is experiencing a mental health or addictions challenge or is in crisis.
The course introduces common mental health challenges for youth, reviews typical adolescent development, and teaches a 5-step action plan for how to help young people in both crisis and non-crisis situations.
Topics covered include:
Anxiety
Depression
Substance use
Disorders in which psychosis may occur
Disruptive behavior disorders (including AD/HD)
and eating disorders
This no-cost training will be held virtually, with instructor Gloria Marfo. It's open to Milwaukee County residents and those who work with them.
If you have any questions, email: gmarfo@communityadvocates.net
About the organizer
Community Advocates Public Policy Institute works toward preventing and reducing poverty while improving the quality of life for individuals and families in Milwaukee and throughout Wisconsin. Our varied programs and projects are united in their view that poverty is Milwaukee's biggest problem. 
The Public Policy Institute targets poverty in a number of ways: we try to reduce it through nonpartisan changes to relevant public policies and laws; we try to prevent its effects through public health efforts; and we work to increase opportunity and wellness for low-income people by fostering factors related to success, resilience and well-being.