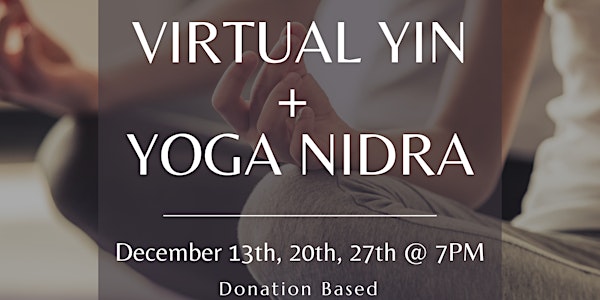 Virtual Yin + Yoga Nidra (Donation Based)
Join me virtually as I guide you through an integrative practice of Yin Yoga and Yoga Nidra!
About this event
Zoom Link: https://us02web.zoom.us/j/85267133373
I currently hold a 200RYT as well as a Yoga Nidra certificate. I am working on a second Yoga Nidra certification and would like to get more practice guiding others through this meditative practice.
What is Yin Yoga? Yin yoga class usually consists of several longer held passive floor poses that mainly target the lower part of the body (hips, pelvis, and lower spine). Each pose is held from 3-5 minutes targeting the body's connective tissues – ligaments, joints, bones, the deep fascia networks of the body and the meridians.
What is Yoga Nidra? Sanskrit term meaning "yogic sleep" is a deep relaxation technique and a form of meditation. Yoga Nidra is a state between sleeping and waking. The body is completely relaxed as the practitioner turns the awareness inward by listening to a set of instructions; much like a guided meditation. (Yogapedia)
What you will need:
Download Zoom (mobile app or desktop--FREE)
Yoga mat (or any flat ground mat)
Blankets (can be used as bolster for Yin and used in Yoga Nidra)
Pillows (neck and head support in Yoga Nidra and bolster support in Yin.)
Any other props you see needed but optional for this practice (straps, blocks, bolsters, etc.)
A quiet room where you won't be disturbed for an hour
Eye mask is nice during Yoga Nidra but optional
Why Yin and Yoga Nidra together? A Yin Yoga practice helps set up our Annamaya Kosha (physical body layer in the 5 Kosha system), moving energy that has been built up and stored in our deep tissues. This helps set us up for a Yoga Nidra practice and go into deeper states of relaxation (accessing our alpha, delta, and perhaps even theta brain waves).
Is this event paid? This series is completely FREE as I build up training hours, but donations are greatly appreciated via Venmo (@T-Lindsey88) or PayPal (tvornkahl@gmail.com --please mark friends and family)
Have more questions? Feel free to contact me taralindseyyoganidra@gmail.com or text me: 309-251-8272
Evening Flow:
~5min. introduction
~15-20 min. Yin practice
~15-20 min. Yoga Nidra
~5min. conclusion/Q&A