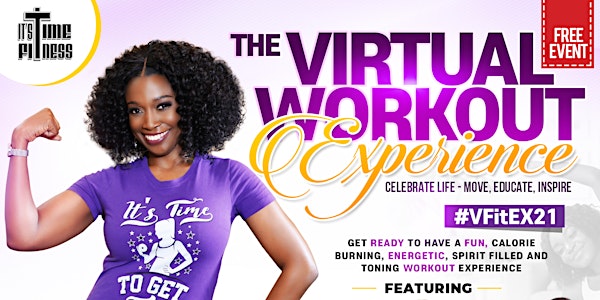 Virtual Workout Experience - Move, Educate, Inspir
You're invited to A Virtual Workout Experience, Celebrating Life! Join us for a time of Celebration, Fitness and Fun Activities.
Refund Policy
Contact the organizer to request a refund.
Eventbrite's fee is nonrefundable.
About this event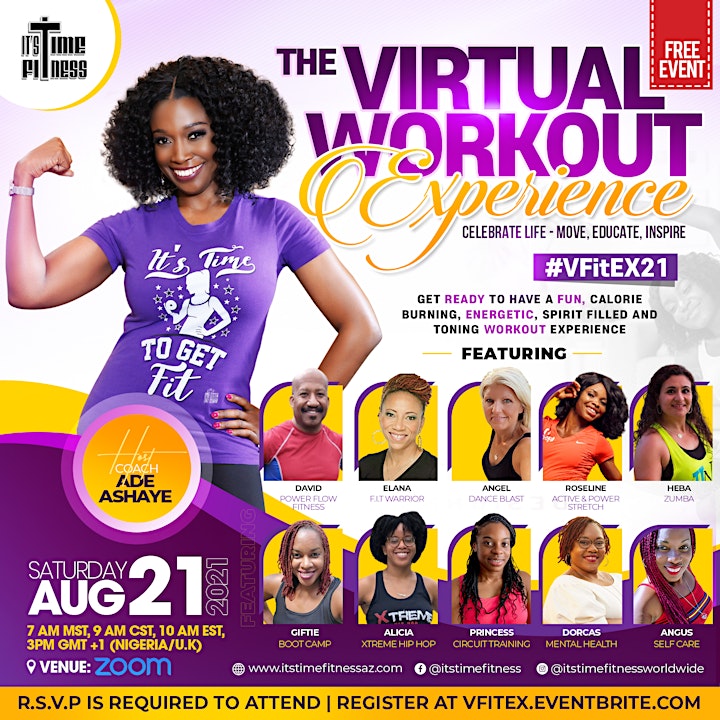 Are you ready to party like you have never done before at a Virtual Fitness Party? Then join us for a time of Celebration, as we move, educate and inspire you to live a healthier and fit life.
Date: Saturday, Aug 21, 2021
Time: 7.00am MST(AZ USA), 8.00am (AB Canada), 9.00am CST, 10.00am EST, 3.00pm GMT +1 (Nigeria/U.K)
Check your time zone at https://www.timeanddate.com
RSVP is REQUIRED to attend to help us plan adequately. 
All exercisers from beginners to advanced will enjoy the benefits of Fitness: stress relief, enhanced cardiovascular health, improvement in muscle tone, increased energy and weight loss (everyone's favorite). Anywhere from 300-800 calories per hour are burned, depending on the exercise intensity. Choreography modifications are offered throughout the class to ensure each participant gets an effective workout.
The following is a model of what the Workout Experience would offer:
Sign In to Zoom meeting (5-10 min. before class starts)
Welcome/Intro
Warm-up
Cardio dance fitness 
High Interval Interval Training (Beginners and Advanced)
Circuit Training
Dance Blast
Active & Power Stretch
Breakout Session
Fun Activities
Mental Health Talk
Self Care Talk
Cool down
What to bring: A bottle of water and a face towel.
What to wear: Comfortable workout clothing and shoes.
When to arrive: Arrive 5 mins before class begins to make sure you can login
By participating in this event, you are consenting to a waiver required for this event. Please review it at www.itstimefitnessaz.com/waiver
Check out Fitness Instructors and Speakers featured at this event and connect with them.
BUKOLA SOMIDE (MC/SPEAKER)
Author, Bukola Somide, is an innovative thinker who is passionate about her life's purpose. She loves to inspire and educate the youth to become their best selves. As the founder/CEO of Innovant Technologies LLC, Bukola is on a mission to create fun Computer Science educational products that boost the confidence of under-served children. Connect with her on Facebook: @innovanttech | IG: @innovant_tech | Twitter: @innovant_tech
DAVID WEST
David (Coach David) West has helped participants make Powerful Wellness Progress in physical performance (fitness, body composition, risk-management), metabolic nutrition (energy, recovery, immunity defense) and strong relationships (work/marriage). For over 20 years, Coach D has delivered exceptional fitness training & family wellness outcomes. Coach David's 4 passions include Faith ministry, Family (wife & 2 teen daughters), Fitness (kickboxing) and Food (grilled fish/veggies).
ELANA ANTHONY
She is a mom of six daughters and certified fitness coach and trainer affectionately known as "The Fitness Evangelist." She is known for creating inspiring worship-filled workouts F.I.T Warriors (Faith-Inspired-Training) that will bless your body, mind, and soul. You can Get Up and Get Active with Elana live 3x a week on the BlackDoctor.org Facebook page where she teaches to people all over the world. Connect with her on Facebook at bit.ly/getupandgetactive or on her website at thefintessevangelist.club."
ANGEL FAULK
"Angel Faulk a.k.a. the fitness angel has been teaching fitness for 25 years and been a wellness entrepreneur for 9 years. She is a brain tumor survivor, wife and mom. She helps people live an abundant life in Jesus! Connect with Angel at www.afaulk.JuicePlus.com or instagram at @thefitnessangel"
ROSELINE EYENIKE
"Roseline is a Corporate Wellness Coach, with over four years of experience in enhancing healthy employee engagement through wellness interventions for organisations. Having worked with over a thousand employees facilitating group fitness & wellness sessions, runs, team-building events and experiential wellness adventures. She helps employers improve the productivity index of its workforce. She is passionate about equipping people with tools to live a healthier and sustainable lifestyle. She is the Business Manager at Truppr, where she handles the effective management of the brand to provide corporates with a platform to improve the overall wellbeing of employees and foster a healthy work culture. Connect with Roselyn at https://instagram.com/tusheloho or https://instagram.com/reefitng"
GIFTIE THOMPSON
She is a lover of all things movement based i.e running, dancing, group fitness etc. As a single mom of two young boys, she stays active to keep up and enjoy the time she gets with them. She has run five full marathons and countless half marathons. The pandemic hit a lot of us hard (including me) but remember any low place is just a springboard to excel higher than you were before! She loves to motivate others to be their best selves holistically; spirit, mind, body and soul so that they can enjoy life!
She is training to be a CPT and Group Fitness Instructor with specializations in virtual coaching, behavior change, performance training, nutritional coaching, and corrective exercise so that we can work out this thing holistically and together! Connect with Giftie at giftie.thompson@gmail.com or (512) 924-6385."
HEBA AZER
Heba is a wife and mom of two boys. Proud to be an Egyptian American. She is a singer and Zumba lover. Connect with Heba at the links below: https://instagram.com/ZumbaWithHeba | https://www.facebook.com/hebazumba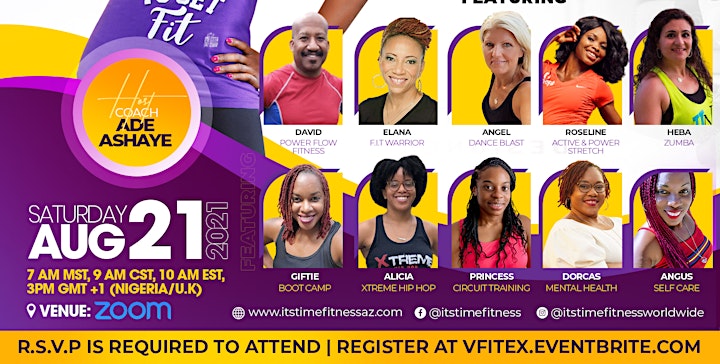 ALICIA SAUNDERS
In addition to being a women's weight loss coach, Alicia Saunders is also a certified Xtreme Hip Hop Instructor. Xtreme Hip Hop makes cardio fun when we step to the bet of the hottest tracks of today & yesterday! Connect with me on Instagram at @alicia.phc & on Facebook at Alicia Saunders!
PRINCESS OHIAGU
Princess is a health & wellness influencer. She is passionate about using her gifts to encourage individuals and communities to live a healthy lifestyle. Connect with Princess at https://youtube.com/user/ohiagu20100
DORCAS PITTMAN
She is a lover of all things Christ as well as a wife and mother of two. She is a certified life coach, speaker and the author of Breaking the Silence: Christianity & Mental Illness. She helps AMAZING women discover the power in their voices so that they may live in the abundance of their God given purpose and authority. Connect with Dorcas at www.fromdarkness2hope.com
ANGUS SMITH
She is originally from Baton Rouge, La and been in Austin 20 years. She is the mother of two young ladies and Glam-ma of Ej and Emree. She is also the ambassador of Black Girls Run here in Austin and love uplifting Ladies. She has a heart for Self Care, Self Love and Encouragement and truly believe we should always put ourselves first so we can show up for others. It's ok to be Selfish, it's needed...