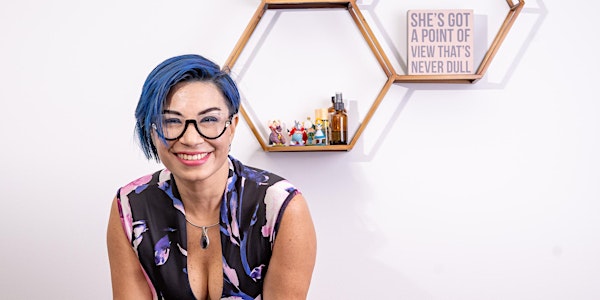 Virtual Wisdom Gatherings
Virtual Wisdom Gatherings hold the intention of bringing like-minded individuals together to share wisdom & empower each other's expansion.
Refund Policy
Contact the organizer to request a refund.
Eventbrite's fee is nonrefundable.
About this event
Get ready to relate, connect and empower!
A Wisdom Gatherer is an individual excited to step outside of their comfort zone to join fellow peers as we share thoughts and feelings around a topic for personal growth. The intention is to come as we are, address challenges and process experiences around the topic, to empower one another through gathered wisdom.
You, me, we- all of us have all felt fear, doubt, judgment, hope, sadness, and anger, as part of the human experience. This is why, in each gathering you will be guided to embody such experiences from a different lens and understanding of them.
Allow yourself to meet and connect with others in your community- to laugh, to play, to relate.
LAST Virtual WG FOR 2022
Aug. 10th @8pm will address
"Lessons from Plant Medicines"
(Ayahuasca, Peyote, San Pedro, Sananga, Kambo, Bufo, Happe)
This gathering will be FREE to honor the master plants and animal medicines.
• Understanding their benefits and research for mental health
• Exercise to connect with your intentions
* Guided Meditation to go within
Location: Zoom
Ticket Exchange: By donation for this WG
Time: 8pm-10pm
Materials you will need for this gathering: (so you can enjoy the exercise- optional)
- Herbs of your choosing (Ex. chamomille, rosemary, Eucalyptos, Basil, etc).
- Himalayan salt (others recommended Agua Florida)
-Essential oils of your choice (Ex. lavender, rose, lemongrass, etc)
- Bag of tea (to prepare tea to drink during gathering)
- Optional: crystal of your choice (Ex. quartz, agate, tiger eye, etc.)
Note: video/camera on is required so we can all invite each other to "see" each other.
Expand by bringing awareness to your options, as we share collective wisdom.
This will be the last of 3 virtual offerings as I'll be taking the next 4 months to regroup and complete other simultaneous active projects I'm collaborating with. If you have enjoyed these gatherings, stay tuned for 2023!
Looking forward to meeting you and learning from you!
Allow yourself to share your truth and wisdom.
Empower others through your stories.
Join this intimate space where we will listen, relate and support each other's growth.
Empower others through your stories.
For each gathering, we will meet virtually and engage in conversation, enjoy fun exercises and reflect on our shares. We're all in it together, so you won't feel alone in this. I will start the conversation around the topic and then invite each participant to share as they feel called to. There's no wrong or right answer. You can't go wrong.
Whether we have lived it or witnessed another's experience, the power of a moment lies in how we process it and what we tell ourselves about it and us. That is why our power lies within us and not in the experience.
So how does it work and when is it offered?
On the 2nd Wednesday of the month (Except for June), we will meet to elaborate on a specific topic.
Location: Zoom
Ticket Exchange: $20 (early bird) - $25
Why join a WG?
Wisdom Gatherings' uniqueness is due to combining a mental, physical and spiritual living perspective to all topics addressed. Just like the in-person Wisdom Gatherings (since 2019), each month a different topic will be presented. Some months will also host special guests/speakers.
So why not give yourself this gift!
Curious about me?
I invite you to visit my pg. and put a face to the name :) Interested in other services? Visit my page below.
https://morethantherapylmhc.com/
As a mental health counselor, I believe in integrating spirituality and holistic practices, so I wanted a space where all perspectives could come together as one. Wisdom Gatherings was born from the desire to offer my clients and the community an alternative space where they can come, share, laugh, listen and shift together. As a therapist I not only intend to give back to my clients and my community, but I also want to continuously participate in recreating a space were feeling empowered is the goal as we address teachings and lessons.
Schedule of Topics 2022
June: In Love & War
July: Unfulfilled Relationship dynamics
August: Lessons from Plant Medicines
Note: Topics may change as the months and gatherings expand and guests suggest their specialties.