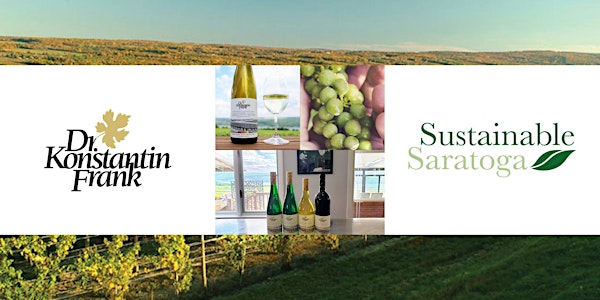 Virtual wine tasting event to benefit Sustainable Saratoga
Join us for a virtual wine tasting fundraising event, featuring wines from Dr. Konstantin Frank, on July 15 @ 6 pm.
About this event
Sustainable Saratoga invites you to attend a Virtual Wine Tasting fundraiser on Wednesday, July 15 @ 6 pm.
This event will feature the award-winning wines of the Dr. Konstantin Frank Winery, located in New York's Finger Lakes wine region. The winery has generously donated a portion of the wines for this event, and all proceeds from the event go directly to helping fund the sustainability efforts of Sustainable Saratoga.
EVENT DETAILS:
The Virtual Wine Tasting is Wednesday, July 15 @ 6:00 pm. Barbara Frank, Consulting Winemaker and Regional Sales Manager of the Dr. Konstantin Frank Winery, will take us on a virtual tasting experience of some of the Dr. Konstantin Frank wines and talk about the winery, including some of their sustainability efforts. Wine & Spirits Magazine named the Dr. Konstantin Frank Winery one of the top 100 Wineries in the World in 2019. Taste for yourself why these wines receive so many accolades.
You can choose between 2 wine packages*
For a $75 donation, you will receive two bottles of wine (Dry Riesling and Cabernet Franc) & some goodies
For a $125 donation, you will receive four bottles of wine (Gruner Veltliner, Dry Riesling, Chardonnay and Cabernet Franc) & some goodies**
* All wine packages come in a reusable canvas bag and will be accompanied by a delicious dark chocolate bar from Barkeater Chocolates in North Creek, NY, and a locally made Sustainable Saratoga window cling.
** While supplies last, the four-bottle wine package will also include a super-soft Sustainable Saratoga T-shirt.
You can pick up your wine package on July 13 or 14, from 4 to 7 pm, in Caffe Lena's atrium.
ABOUT THE WINERY
Dr. Konstantin Frank Winery is a family run winery on the southwestern hills of Keuka Lake. The founder, Dr. Konstantin Frank, immigrated to the United States in 1951. Within 10 years, Dr. Frank founded Vinifera Wine Cellars, a winery that quickly gained a reputation for spectacular Rieslings. His ability to produce European varieties of wine in the cool climate of the Finger Lakes revolutionized the East Coast wine industry. The Frank family has carried the legacy of Dr. Konstantin Frank on through four generations.
ABOUT SUSTAINABLE SARATOGA
Sustainable Saratoga is a not-for-profit organization that promotes sustainable practices and the protection of natural resources, through education, advocacy and action, for the benefit of current and future generations in the Saratoga Springs area. Since 2008, Sustainable Saratoga has been a leader in promoting awareness of environmental issues and what we as a local community can do to minimize our ecological impact while maintaining a high quality of life.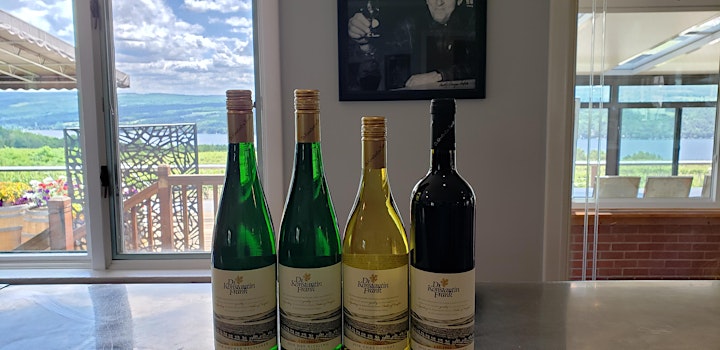 ABOUT THE WINES
2018 Gruner Veltliner. Herbaceous on the nose, this wine has grassy notes paired with candied lemon zest, bright citrus, crisp red apple, light stone fruit and a dominant undertone of slate and mineral aromas. The mouthfeel is rounder and softer than the previous vintage offering a wine with more body suitable to pairing with heavier dishes.
Food Pairing: Asparagus (grilled); fresh goat, blue, rich & stinky cheeses; dishes focused on fresh herbs; vegetarian dishes; salads; smoked ham & fish; pork (grilled or fried); scallops (sauteed); sushi; Thai cuisine (spicy but not too hot); fried chicken.
2018 Dry Riesling. Subtle notes of minerality, grapefruit, lime, candied citrus and soft apricot on the nose. The crisp lime-driven acidity enhances the distinct Keuka Lake minerality, rounded by stone fruit and ginger.
Food Pairing: Humboldt fog, slightly aged cow & sheep milk cheeses; crab cakes; lobster; chicken (poached, lightly prepared); salads (green fruits or seafood); smoked ham & fish; vegetarian & egg dishes; sushi.
2018 Chardonnay. Medium to full bodied intensity with vibrant acidity and fruit dominant characters of citrus, creamed honey, Macintosh apple and minerality. The fruit and acidity are perfectly balanced with a mere hint of oak and a crisp citrus finish.
Food Pairing: Nutty cow's milk Alpine cheeses (especially gruyere, double and triple-crème cheeses, washed-rind cheese); hard aged cheeses; moderately aged goat's milk cheeses; roast & grilled chicken; white fish; salmon; scallops; lobster; butter, cream & mustard-based sauces; Caesar salad.
2016 Cabernet Franc. Medium intensity with cranberry, raspberry, cracked pepper, dark cherry and slight toastiness from oak. Soft earthy tannins are balanced perfectly with vibrant acidity. The combination of European and American oak adds layers of spicy flavors.
Food Pairing: Fresh or aged goat's milk cheeses; nutty cow's milk Alpine cheeses; washed & bloomy rind cheeses; tomato-based dishes; stuffed bell peppers; pork tenderloin; ribs; roast beef; chimichurri; chocolate fondue; Barkeater chocolate.