Join in on the Virtual Wine Fest using the link immediately below!
About this event
You can join in on the Virtual Wine Fest Experience HERE!
Wine packages for this fest are SOLD OUT
Click HERE to sign up for our VIP Email List to be the first to hear about the next Virtual Wine Fest and other upcoming events! 
You might consider yourself a wine aficionado, or you might just be looking to spice up your socially distanced life! Either way, we've got you covered with Virtual Wine Fest! This will be the world's largest wine fest, spanning over 20 states!
Remember what it was like to be out and about enjoying a smooth glass of wine with your friends?! We do, and we're bringing that joy to your dinner table, bedroom, patio or wherever you like to enjoy your wine!
Get ready for an exciting evening as we guide you through this virtual tasting. This event will feature:
6 bottles of wine delivered to your door
Instruction on the basics of wine tasting
Guided tasting of various wines
Wine trivia and fun facts
Musical performances
Virtual art performance
and more!
Also, don't forget that as you cruise through the tasting, sipping delicious wines, you're also supporting a good cause! For every ticket purchased, we will be able to provide 10 meals to children & families in need via Feeding America. Their mission is to feed America's hungry through a nationwide network of member food banks and engage our country in the fight to end hunger.
FREE TICKETS/RAISE MONEY FOR YOUR CAUSE: See below for more info.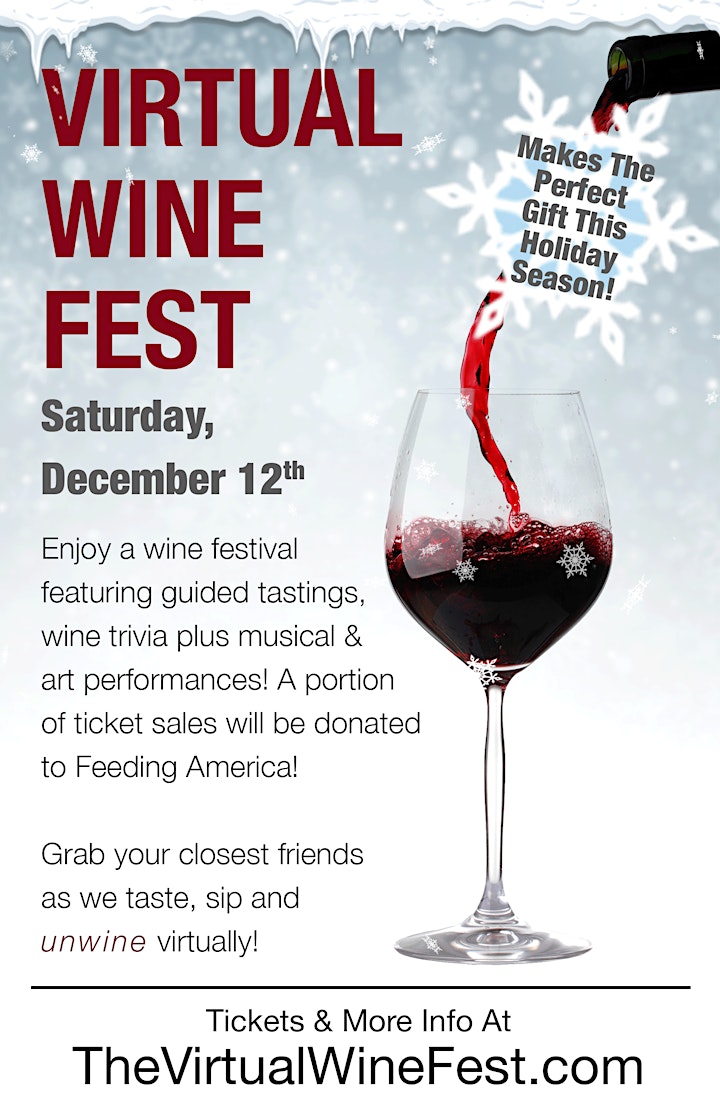 Wines Featured in Six Bottle Package (all bottles are full sized bottles, 750ml each)
White:
Chevalier de Bayard Blanc
Origin: France
Grape: Colombard
Description: The wine shows a lovely balance between light acidity and a hint of sweetness, very fresh and easy drinking. Very aromatic with aromas of green apple, citrus fruit and fruit drops. A fruity and lively wine.
Golden Grape Fiano
Origin: Australia
Grape: Fiano
Description: This unique variety expresses trademark crisp acidity and vibrant citrus and tropical fruit. Pale lemon in colour the wine displays aromas of lemon zest and orange along with delicate hints of jasmine. On the palate lime and pineapple flavors complement the herbaceous notes and finish with tingly freshness.
Burg Layer Schlosskapelle Spatlese
Origin: Germany
Grape: Kerner
Description: This Spätlese is very aromatic. A fruity wine with a floral hint. Delicate aromas of peach, apricot and tropical fruits. Light acidity, but intensely sweet.
Red:
Rosso Passito
Origin: Italy
Grape Blend: Negroamaro, Merlot & Malvasia
Description: An intense back red color. On the nose you'll get coffee, plums, raisins and a hint of chocolate. A full bodied wine, rich and complex, with a persistent finish.
Mas de Victor Tinto
Origin: Spain
Grape: Tempranillo
Description: Cherry red color, clean and bright. Very aromatic and expressive with notorious fruit scents. Well balanced, fresh and elegant.
Cape Root Cabernet Sauvignon
Origin: South Africa
Grape: Cabernet Sauvignon
Description: This sweet Cabernet is black-red in color. A very aromatic wine of gooseberry and sweet peppers with a hint of black pepper. A lively and full-bodied wine with a juicy balance between the sweetness and acidity.
FREE TICKETS/RAISE MONEY FOR YOUR CAUSE:
Fundraising Opportunity: Are you trying to raise money for a certain cause? Email Fundraising@TheVirtualWineFest.com for more info!
Celebrate your birthday at the fest and your ticket is free! Email Birthdays@TheVirtualWineFest.com for more info (conditions apply).
Want to earn a free ticket and some cash for spreading the word? Email Ambassadors@TheVirtualWineFest.com for more info!
Frequently Asked Questions
Where is this event taking place? This event will be hosted virtually. Confirmed ticket holders will receive a link to their virtual event via their registered email address within two hours of the event.
If I am busy on December 12th, can I still participate? Yes, we will post a link to the fest for all customers to view that will be up for 30 days.
What are the age restrictions for this event? All participants must be 21+.
Do you deliver the wine to my door? Yes! All you need is someone 21+ to sign for the delivery!
When will my wine be delivered? All wine will be delivered by Thursday, December 11th. If you have not received your wine by Thursday evening please email us at Info@thevirtualwinefest.com
Is there a deadline to purchase tickets? Wine packages must be purchased before 11pm on November 29th. After that date, we will only be offering the free "Fest Only" ticket that does not include wine.
Do you deliver everywhere? We proudly deliver wine to any of the following states: AK, AZ, CA, DC, FL, ID, IL, IN, LA, MI, MO, NC, NE, NV, NH, NM, ND, OR, VA, WV & WY. Stay tuned! More states may be added.
SPONSORSHIP OPPORTUNITIES: For questions, sponsorship opportunities, and press inquiries, please email Sponsors@TheVirtualWineFest.com.
Rules, Regulations & Disclaimers:
All guests must be 21+. If you are not 21 and purchase a ticket, you will not be allowed to participate in the event. Any ticketing issues will be handled by Eventbrite.com. Please contact them directly at https://www.eventbrite.com/contact-us/. Sorry – no refunds or price adjustments. You may not use the Event/Service for any illegal, harmful, prohibited or nefarious purpose; soliciting money from or defraud any other users; bully, "stalk," intimidate, assault, harass, mistreat or defame any person; post any Content that violates or infringes anyone's rights, including rights of publicity, privacy, copyright, trademark or other intellectual property or contract right; use any language that is hate speech, threatening, sexually explicit or; incites violence; or display any nudity or graphic or gratuitous violence; use any language that promotes racism, bigotry, hatred or physical harm of any kind against any group or individual; and/or solicit personal information for any purpose, or personal identifying information for commercial or unlawful purposes from other users or disseminate or use another person's personal information without his or her permission. For further Terms and Conditions of this event and ticket purchase please see "Ticket Purchase and Event/Service Terms and Conditions" in checkout before purchasing these tickets; which shall also be binding and shall be incorporated by reference as though fully stated herein.