Overcome any block that are keeping you from building your business. Learn how to apply simple systems and processes to increase your income
About this event
Wealth Building Mastermind Group
Register Today: https://wealthbuildingcohortmar.eventbrite.com
Faith and fear cannot coexist in the same mind…….with that being said, I think it is time for us to come together and create a strong plan of action to generate abundance in every area of our lives.
Abundance in our money, health, spirituality, family, relationships, business, and careers.
So how do we do that?
We start our own Wealth Building Mastermind Group which will focus on Building Wealth and Abundance in Your Life over the next 30-Days. We will hold each other accountable to achieve our goals, increase our income and create systems to building long-term wealth.
What is a Mastermind Group?
Mastermind groups offer a combination of brainstorming, education, peer accountability and support in a group setting to sharpen your business and personal skills.
A mastermind group helps you and your mastermind group members achieve success. Members challenge each other to set strong goals, and more importantly, to accomplish them.
During this Mastermind Group we will study:
1. The eBook "The Science of Getting Rich"
2. The eBook "Alive to Thrive Workbook"
3. The electronic "2021 Calendar and Financial Planner" which is designed to keep your money organized in 2021.
Launch Date: Every Wednesday Evenings, Starting on Wednesday, March 10th until Wednesday, March 31, 2021
Time: 6:00 PM to 7:30 PM (CDT)
Location: Online via Zoom
Cost: $125 per person.
Requirement: Must be open to the information and changing your mindset. Must be able to commit to attending the Weekly Mastermind Group meetings.
Secure Your Spot: https://wealthbuildingcohortmar.eventbrite.com
There will only be 10 people in the group. Only 7 spots left. You must make the commitment for 30-days, please use this link above to sign up.
Please call me at (615) 753-5647 if you have any questions.
Let us Build Wealth Together.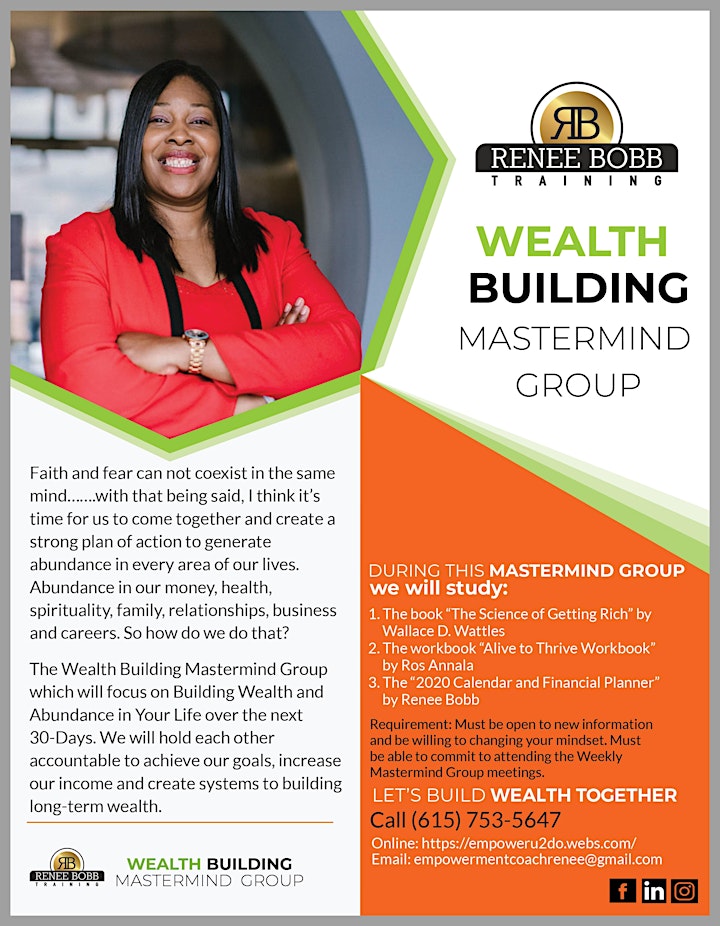 Organizer of Virtual: Wealth Building Mastermind Group
About Business Coach Renee Bobb
Philanthropist, Bestselling Author, Business Coach and Trainer
Renee Bobb is an authority in the field of self-publishing and small business development. Her company, Renee Bobb Training LLC (https://ReneeBobbTraining.com), is an Empowerment Training and Development Firm, specializing in Career Empowerment, Small Business Development, Financial Empowerment and Book Publishing Training (https://BookPublishingLady.com). At the present time, Renee teaches the Nashville Book Publishing Workshop which has helped over 3,000 aspiring authors to write, market and publish their own books.

Renee is an award-winning entrepreneur and a Bestselling Author. Renee has published 16 non-fiction books including: Financial Empowerment: A Practical Approach to Getting Your Financial Life in Order and her top seller, The Self-Publishing Process: The Beginner's Guide to Book Publishing Success.

Over the past two years Renee has worked with Bunker Labs and the role of Training and Development Manager under her own company. She spearheaded Bunker Labs Diversity, Equity, and Inclusion Leadership Team. Renee also created the Black Veteran Entrepreneur Workshop Series, an 8-week training course to empower military Veterans and their families to start and expand their own businesses.

One of the highlights of Renee's career is serving in the United States Navy as a Telecommunications Operator. Over the past seven years Renee has worked with Military Veterans within the VA Hospitals teaching them Financial Empowerment and Money Management classes.

Renee has a passion for the game of basketball. As the owner of the Music City Icons Professional Women's Basketball Team, Renee desires to help women get a second chance at a basketball career. Her team is a feeder to the WNBA and International Basketball Teams. (www.MusicCityIcons.com).

Renee is a graduate of Norfolk State University and holds B.S. Degree in Interdisciplinary Studies with a concentration in Business Administration, Marketing and Social Work. She is a member of Zeta Phi Beta Sorority Incorporated.