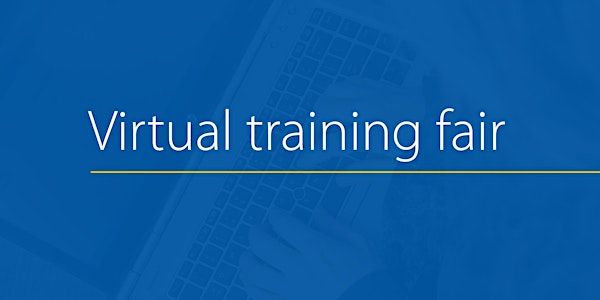 Virtual Training Resource Fair - October 19
This event will feature some of the available trainings the Minneapolis/St. Paul, MN metro area.
About this event
Everyone is welcome to attend the Virtual Training Resource Fair to learn about FREE training that will help you get a great job!
Wednesday, October 19, 1-2 p.m.
This event will feature some training opportunities in the Minneapolis/St. Paul, Minnesota metro area.
Each agency will give a short presentation about their organization and the training(s) they offer. After the presentation, you will have the opportunity to speak with someone from each agency to ask questions.
Register https://www.eventbrite.com/e/virtual-training-resource-fair-october-19-tickets-416875785697
How to attend:
• Register above.
• Next, we will send you an email with a link to the event.
• On the day of the event, simply join the event by clicking this meeting link or the link in your email: https://hc.adobeconnect.com/trainingresourcefairoct19
Agencies attending:
Avivo
• IT Support
• Medical Office Support
• Office Support
• Telecom Installation and Support
Center for Energy and Environment
• Home Energy
Goodwill-Easter Seals
• Construction
• Automotive
• Business Professional Pathway
• Financial Industry Pathway
• YouthBuild
Hennepin County
• Job Search and Career Advancement
• Technology Usage
• My Skills and Future
• More
Hired
• Medical Device Assembler
• Medical Call Center
• Office Administration
International Institute of MN
• Housekeeping
• Dietary Aide
• Professional Leadership
• Nursing Assistant
IT Career Lab
• IT Training
• A+
• Microsoft
• Network +
• CCNA
Karen Organization of MN
• My Road to Success
• Healthcare Career Exploration
• Certified Nursing Assistant
• Apprentice Ready Manufacturing
• Forklift Operator and CDL Class A
• Move Up In Manufacturing
• Translating and Interpreting
Minnesota Teamsters Service Bureau
• Dislocated Worker Program
• IT
Twin Cities Rise
• My Road to Success
• Call Center/Customer Service
• Facilities and Maintenance
This online event is free to all community members, workforce professionals, employment services staff, counselors and anyone interested in learning more about these job openings. It's easy to join with a smart phone, tablet or computer.
Questions?
• Lisa Cain, 612-596-1990, lisa.cain2@hennepin.us
For more information go to Hennepin.us/employmentservices and CareerForceMN.com.
This event is promoted by CareerForce.