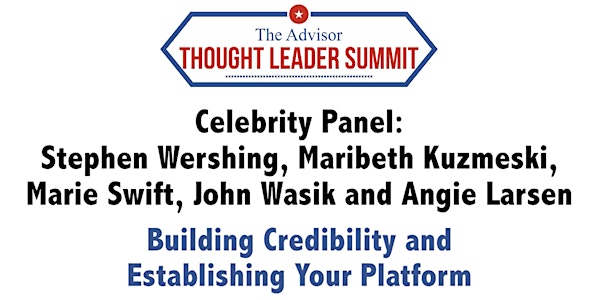 Virtual Training Module: Celebrity Media Panel
Description
Join Stephen Wershing CFP, Maribeth Kuzmeski PhD, Marie Swift, John Wasik and Angie Larsen for a 50-minute discussion on working with the media and achieving good, ongoing success as a source for television, radio, print and digital interviews, etc.
These 5 individuals have all done a significant amount of walking their talk. All are sought-after authors, speakers and program guests. All are thought leaders in their own right. Two of them have been full-time journalists. All of them have been on the receiving end of good and bad pitches.
You'll feel like you are right there in the room with them as they share their top tips for wooing the media and building a credibility platform that truly sets you apart from your competition as a true thought leader in your field.
2:42 minutes long.
Recorded live at the University of Chicago Gleacher Center as part of The Advisor Thought Leader Summit, November 9-10, 2018. Produced by Impact Communications video productions group.
Learn more about the next Advisor Thought Leader Summit at www.AdvisorThoughtLeaderSummit.com
---
**A "Ticket" purchase allows our system to send a confirmation message / email with a link to watch the FULL "Advisor Thought Leader - Celebrity Media Panel" video. The link will be found in the "Additional Information" area near the bottom of the email. (shown in image below)