Admissions and Occupancy Virtual Training July 26-29, 2021
About this event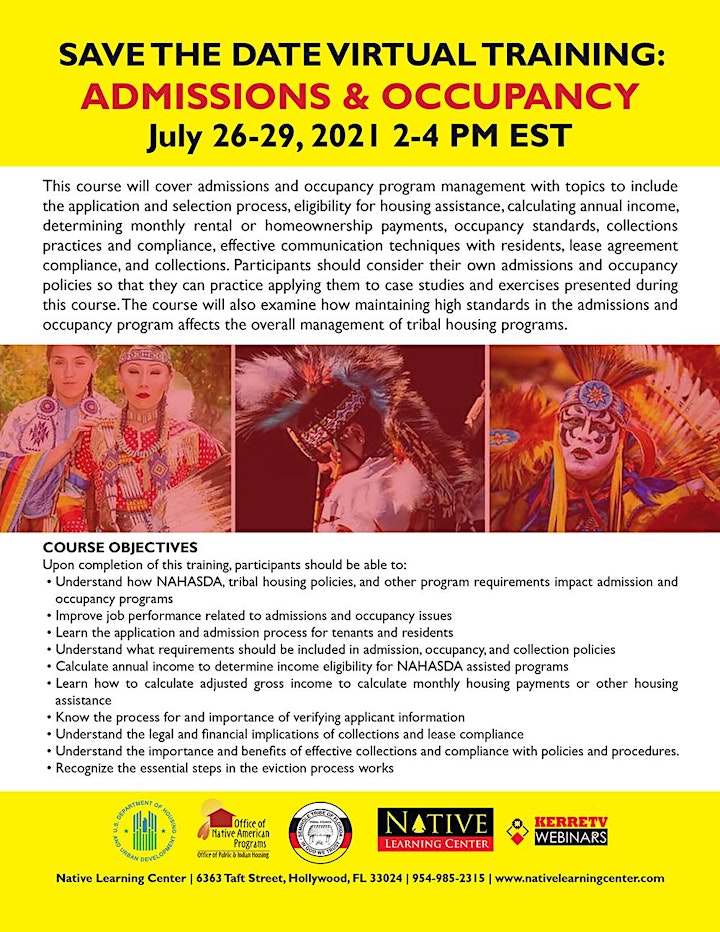 This course will cover admissions and occupancy program management with topics to include the application and selection process, eligibility for housing assistance, calculating annual income, determining monthly rental or homeownership payments, occupancy standards, collections practices and compliance, effective communication techniques with residents, lease agreement compliance, and collections. Participants should consider their own admissions and occupancy policies so that they can practice applying them to case studies and exercises presented during this course. The course will also examine how maintaining high standards in the admissions and occupancy program affects the overall management of tribal housing programs.
COURSE OBJECTIVES
Upon completion of this training, participants should be able to:
Understand how NAHASDA, tribal housing policies, and other program requirements impact admission and occupancy programs.
Improve job performance related to admissions and occupancy issues.
Learn the application and admission process for tenants and residents.
Understand what requirements should be included in admission, occupancy, and collection policies.
Calculate annual income to determine income eligibility for NAHASDA assisted programs.
Learn how to calculate adjusted gross income to calculate monthly housing payments or other housing assistance.
Know the process for and importance of verifying applicant information.
Understand the legal and financial implications of collections and lease compliance.
Understand the importance and benefits of effective collections and compliance with policies and procedures.
Recognize the essential steps in the eviction process works.
Class Time:
The class will be from 2:00 pm-4:00 pm EST.
Organizer of Virtual Training Admissions and Occupancy July 26-29, 2021