Virtual Tour: Refugee Slaves and the Underground Railroad in Chicago
A look at the vibrant communities of refugee enslaved people and abolitionists in 19th century Chicago. Need some new statue ideas?
About this event
In some corners, Chicago was called "a sinkhole of abolition." In the city, things weren't always that simple. There was a tight-knit group of abolitionists and Underground Railroad workers devoted to helping the refugee slaves who came to the city, but a vocal minority of slave catchers and copperheads stood ready to fight them.
In this illustrated talk/tour, we'll expand on our recent Underground Railroad tour at Graceland Cemetery to include more locations and stories, from the "Omnibus Riot" of 1862 to locations of homes that were known underground railroad stops, scenes of battles over the fugitive slave law and Kansas Nebraska act, and more - uprisings, riots, battles, heroes and villains that are recorded, but not always underlined, in history.
Tour Guide Adam Selzer is the author of more than twenty books, including Mysterious Chicago, Flickering Empire: How Chicago Invented the US Film Industry, and an upcoming book on Graceland Cemetery, research for which uncovered some of the stories in the presentation.
(In the pic: Grand Army of the Republic, John Brown Post #50, a veteran's organization in Chicago, largely consisting of vets of the 29th United States Colored Troops regiment. NYPL. It likely includes Horace Jackson and William Gill, two Kentucky slaves who escaped to join the Union army and later settled in Chicago).
On Saturday, June 19th, we'll follow this one up with an in-person tour of Underground Railroad stories at Graceland Cemetery!
HOW TO WATCH - it's easy!
- The event will be broadcast live via Facebook Live on the Mysterious Chicago facebook page. ( http://www.facebook.com/mysteriouschicago ). It'll also be on twitch.tv/adamchicago and youtube.com/adamselzer
- ALL YOU HAVE TO DO is be on that page after the broadcast starts (we usually start shortly before the scheduled start time and give people a few minutes to join in), then click "play" on the video.
- If you "like" the Mysterious Chicago page you can set it to notify you when the page starts broadcasting! And if you want practice, or to make sure it works on your system, we broadcast "mini tours" nearly every day at 10am central.
-The event is free to watch. No tickets or codes will be required. Donations are suggested either via this page, venmo (adamchicago), paypal (adam@mysteriouschicago.com) or by joining patreon.com/adamchicago. Or, donate to a Black Lives Matter-related charity (I'll be including links to chicagobond.org). But no donation is necessary.
- If you miss it, never fear - it'll be on the "videos" section of the facebook page for some time after the live broadcast.
If you don't see the video, here are some trouble shooting tips:
- There is no special code or special link, and you won't be asked for a ticket. Just be on the main Mysterious Chicago Facebook page. (not the event page or an old post, just regular old http://facebook.com/mysteriouschicago )
- If you are on the site and don't see "Happening Now" or "Mysterious Chicago is Live" try refreshing and scrolling down a bit. Or restarting your app.
- Similarly, if you're watching and it freezes or you lose the audio, refresh the page or restart your app.
- And make sure you're not mistaking the date or time zone! We regularly get comments from people who are trying to watch on the wrong date or time. All times are central.
- Beware of spam and scam sites!
- Note that clicking "follow" on the eventbrite page only means that you're now following this company on eventbrite, and will get notices about new event postings. The button doesn't do anything particular to the event. You don't have to push it.
- If none of this works for you, you may have connection, device or settings issues. Consult facebook.com/help.
- Believe me, if the broadcast isn't working, I'll know. There will be updates and explanations all over the facebook page. There've been times when we had trouble with the audio for a minute or the connection froze for a few seconds, but we've never had a video that just didn't work. If you don't see apologies all over, the video is broadcasting and enough people are watching and commenting that I'm confident it's working just fine.
Under Section 4-156-720 of the Municipal Code of Chicago, this performing arts venue may not charge an admission fee, minimum purchase requirement, membership fee, or other fee or charge imposed for the privilege of entering the premises. Any donations are purely voluntary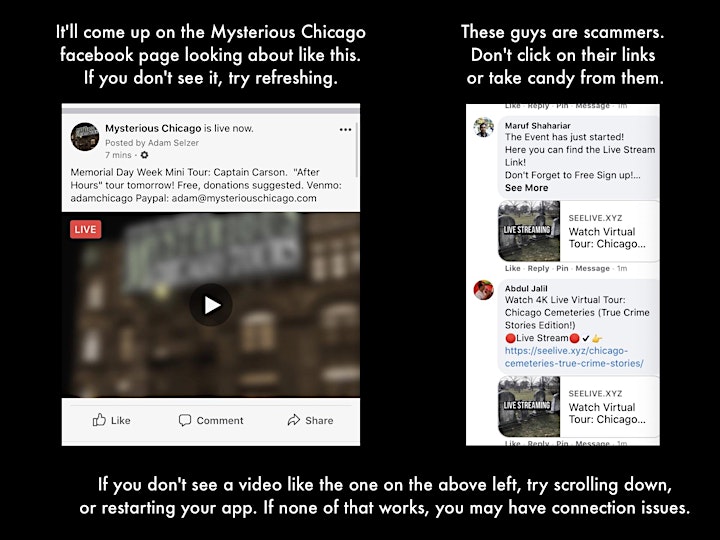 Organizer of Virtual Tour: Refugee Slaves and the Underground Railroad in Chicago