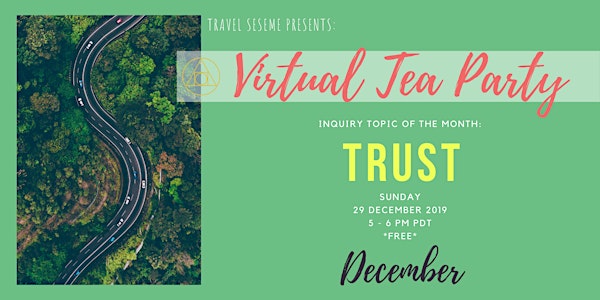 Virtual Tea Party, December 2019 // TRUST
Description
JOIN ONLINE: Link Sent Via Email When You Register
Need a dose of inspiration? Join our FREE online MeetUp Sunday, December 29th, 2019 from 5-6 pm Pacific. We call it a Virtual Tea Party, and it looks like you making a cup of your favorite tea, seeing our lovely faces on your screen, and having a rich, meaningful, engaging conversation from the comfort of your home!
Imagine getting some of your monologues out of your head and into DIALOGUE with amazing people from all over who are also out to create their best lives.
Here's what past attendees had to say:
"That was really fun! Thank you for hosting this."

"These calls really do shift things! Thank you."
Reserve your seat now! This month's Transformational Travel theme is TRUST -- a great topic as we close out the year and the decade and start again. Could trust be the ultimate liberator?
In conversation together, let's explore when and how travel can open up opportunities for expressions of life that align us with our true, higher self.
JOIN ONLINE: Link Sent Via Email When You Register
Past topics:
January: Adventure | It's not at your destination; It's Inside of You
February: Belonging | You belong here, there, and anywhere -- the whole world is your neighborhood
March: Home | I am at home wherever I am; I am at home with myself
April: Silence | Silence is the source of inspired action and the birthplace of our dream lives

May: Magic | Magic happens in the unknown

June: Happiness | Satisficing - an economic theory - can be the key to making room for joy on the journey
July: Courage | We practice courage by being courageous

August: Intuition | How solo travel hones our inner knowing

September: Freedom | Being free is choosing powerfully

October: Empowerment | You are the expert in your travel and your life

November: Self-Expression | The essense of being human
To learn more about the Transformational Travel movement, click here: https://chloelauer.com/movement
To join the world's FIRST course on Transformational Travel, click here: https://chloelauer.com/course
Instagram: @_chloelauer_
Facebook Group: https://www.facebook.com/groups/TransformationalTravelFree/
Facebook Page: https://www.facebook.com/transformationaltravelprogram