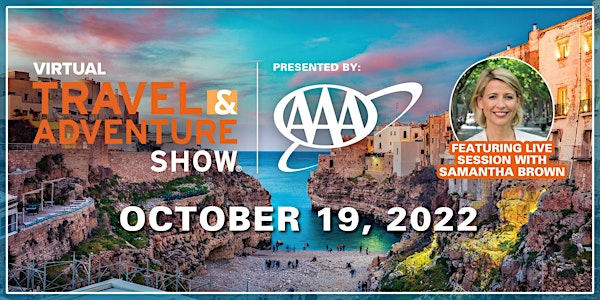 Virtual TAS : Presented by AAA Travel
Find, Plan and Book Your Next Vacation – VIRTUALLY!
About this event
Reconnect with the World and Discover Vacations that Inspire at the Virtual Travel & Adventure Show, Presented by AAA Travel
The producers of the Travel & Adventure Show Series and AAA Travel, bring you a one-of-a-kind virtual vacation planning event to help refill your bucket list with picture-perfect memories of worldwide tours, cruises and more. Plus, save up to $500 on your next vacation, combinable with great AAA member benefits.
AAA Travel, invites you to explore the 1,000s of vacation options offered by their trusted network of preferred travel partners:
• Discover new and exciting domestic and international destinations
• Speak live with travel industry experts and AAA Travel Advisors for guidance on how to safely navigate the new world of travel
• Visit virtual booths to meet with experts from the world's leading cruise, tour, hotel, and destination companies
• Take advantage of exclusive day-of-show offers from AAA Preferred Partners and membership values that can't be found anywhere else – including 5 Combinable Ways to Save
Join Travel Experts & Samantha Brown – Live!
AAA is pleased to welcome back travel expert and award-winning television host Samantha Brown to the AAA Virtual Travel & Adventure Show. Samantha will share highlights from her latest adventures filming "Places to Love" Season 5, how travel has changed over the last year, and what to expect as you begin planning your next vacation.
Meet Top Travel Experts!
This show isn't just about speaking directly with the travel providers. You'll also hear travel-specific content from the top experts in the travel industry. With over a dozen informative, on-demand seminars, there is plenty to explore and learn about traveling the world.
Book Your Vacation in the AAA Vacation Planning Center
After exploring the virtual booths to gather travel inspiration, head over to the AAA Vacation Planning Center to book your vacation or consult with a travel advisor.
Schedule an Appointment with a AAA Travel Advisor
Whether you are interested in speaking with one of our AAA Travel Advisors in person on the day of the show or you would like to schedule an appointment for a specific date and time, please click here to request an appointment: https://aaa.qualtrics.com/jfe/form/SV_b8IMn2THQVAYDMG
SHOW SPECIAL! SAVE UP TO $500 WHEN YOU BOOK YOUR VACATION WITH AAA TRAVEL. Plus, see how you can qualify to win a European River Cruise from AmaWaterways!
The event begins at 3pm Eastern and ends at 8pm Eastern, meaning you'll have plenty of time to explore the show, view on-demand content, and hear your questions answered live in the vTAS Live Studio.