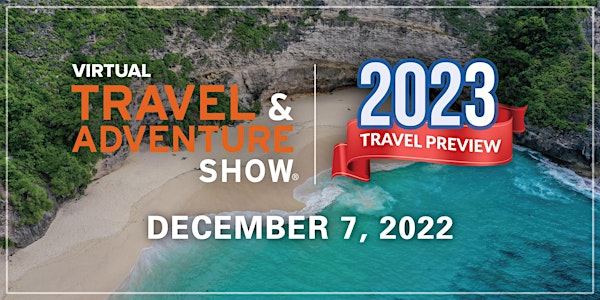 Virtual TAS : 2023 Travel Preview
Find, Plan and Book Your Next Vacation – VIRTUALLY!
About this event
Discover Hot Destinations, Explore Trending Itineraries and Learn What's New in 2023 and Beyond!
The producers of the Travel & Adventure Show Series bring you a one-of-a-kind virtual vacation planning event to help you prepare for the upcoming year in travel.
During this exclusive travel preview, you will:
• Discover new and exciting destinations from around the globe
• Speak live with travel industry experts for info on the newest itineraries and trending vacation options
• Visit virtual booths to meet with experts from the world's leading destinations, tour operators and travel providers
• Take advantage of exclusive day-of-show offers and show-only deals designed to help you stretch your travel dollar
Join Top Travel Experts for A One-Of-A-Kind Panel Discussion
Moderated and hosted by world traveler and Host of AngelsTravelLounge.com, Angel Castellanos, you'll take part in a live panel discussion that will give you actionable advice on how to navigate reward points, cruising and hotels in 2023 and beyond.
Meet Top Travel Experts!
This show isn't just about speaking directly with the travel providers. You'll also hear travel-specific content from the top experts in the travel industry. With over a dozen informative, on-demand seminars, there is plenty to explore and learn about traveling the world.
Book Your Vacation Face-to-Face
With industry-leading video chat capabilities, you'll be able to speak directly with a representative from each exhibitor at the event. Not ready for a video chat? Instant messenger features are available in each booth as well.
The event begins at 5pm Eastern and ends at 10pm Eastern, meaning you'll have plenty of time to explore the show, view on-demand content, and hear your questions answered live in the vTAS Live Studio!