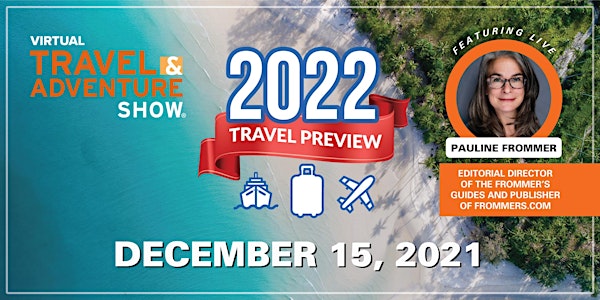 Virtual TAS : 2022 Travel Preview
Find, Plan and Book Your Clients' Next Vacation – VIRTUALLY!
By Travel & Adventure Show / Unicomm LLC
Date and time
Wednesday, December 15, 2021 · 2 - 7pm PST
About this event
Pauline Frommer, Editorial Director of the Frommer Guides and Publisher of Frommers.com, to Headline the 2022 Travel Preview!
The top Travel Brands from Around the Globe Are Waiting to Meet YOU!
Find and plan your clients' next vacation at the Virtual Travel & Adventure Show!
From the producers of the Travel & Adventure Show Series, America's ONLY Series of Travel Trade Shows, comes a one-of-a-kind virtual platform designed to help you refill your clients' bucket list.
You'll have the ability to speak one-on-one with destination experts representing the top destinations, tour operators and travel providers from around the world right from your own home or office.
Each virtual booth that you visit will be staffed by experts who are on-hand to speak directly with you via an online chat function, as well as Zoom rooms and other video chat functions, allowing you communicate face-to-face.
Learn the Latest Travel Trends and Tips for Travel in 2022 from Pauline Frommer!
This isn't just about speaking directly with the experts. You'll also hear travel-specific content from the top experts in the travel industry. With over a dozen informative on-demand seminars - there is plenty to explore and learn about traveling the world.
But there's more! Our LIVE Keynote presenters will inform and inspire you.
Learn the top travel tips and the newest trends for travel in 2022 from Pauline Frommer!
The best part? Pauline will be answering your questions LIVE in the VTAS Studio with the event Host, The Booze Traveler - Jack Maxwell.
Make the first stop on your clients' next trip the Virtual Travel & Adventure Show, previewing the top vacation options for the upcoming year, December 15th.
This event begins at 3pm Eastern Standard Time and ends at 10pm Eastern, meaning you'll have plenty of time to explore the show, view on-demand content and get your questions answered LIVE in the VTAS Live Studio.
About the organizer
Going into our 17th year with over 100 completed events, the Travel & Adventure Show has connected over 1.5 million travel enthusiasts with over 4,500 different exhibiting companies from around the world.
The Travel & Adventure Shows are produced by Unicomm, LLC., a leading trade show organizer and managed by a team with over 150 years of industry experience. Originally founded as the Adventures In Travel Expos, the events were re-formed in 2011 as the Travel & Adventure Shows to better serve attendees and focus on leisure and experiential travel. The events are produced in nine major DMA's across the United States and have become the USA's most important travel events for marketers wishing to reach consumers and travel agents.