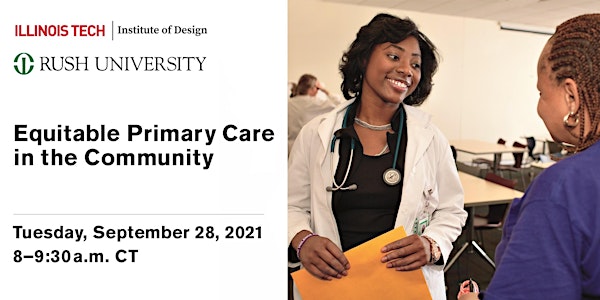 Virtual Summit: Equitable Primary Care in the Community
Sen. Mattie Hunter introduces a panel of experts to launch the Rush-IIT Institute of Design Action Lab project on equitable healthcare.
About this event
Illinois State Senator Mattie Hunter (Third District) introduces a panel of experts to launch the Rush-IIT Institute of Design Action Lab project on equitable health care. Panelists with direct experience in the community or designing community programs will discuss the challenges of primary care in Chicago's most at-risk communities, including what's missing from primary care today and ways to build community trust.
Moderators:
Panelists include:
Learn more about the Rush-ID collaboration.
About the Action Lab
Leveraging ID's expertise in systems design and human-centered design, the Action Lab undertakes a specific challenge (e.g., sustainable development, equitable healthcare, just policymaking) and creates a consortium that works cooperatively to produce new, actionable knowledge to address that challenge. By bringing communities, stakeholders, and experts together, we synthesize shared value solutions to maximize collective action and acceptance.
About Rush University
Rush University is the academic enterprise of Rush University Medical Center. Rush University is comprised of four colleges: Rush Medical College, College of Nursing, College of Health Sciences and the Graduate College. Together they offer more than 40 degree and certificate programs. The Graduate College is focused on innovative approaches to education and biomedical research that produce a highly skilled workforce. Students not only learn leading-edge scientific techniques but also critical thinking and analytical problem-solving skills that will serve them no matter their next steps after earning their master's or doctorate degrees.
About IIT Institute of Design (ID)
IIT Institute of Design (ID) builds responsible, cooperative, intelligent futures. Founded by László Moholy-Nagy as The New Bauhaus in 1937, ID is known for pioneering human-centered design and systems design. With the only design school in the US devoted completely to graduate students, ID offers an expansive approach to design education for the 21st century and beyond. But ID is more than a graduate school. ID is an international community of learners and practitioners who embrace complexity and drive impactful change by eliciting a power unique to humans: creativity. Powered by optimism, our inspiring and supportive community uses empathy, logic, and collaboration to move design ever forward and address the biggest issues of our time.