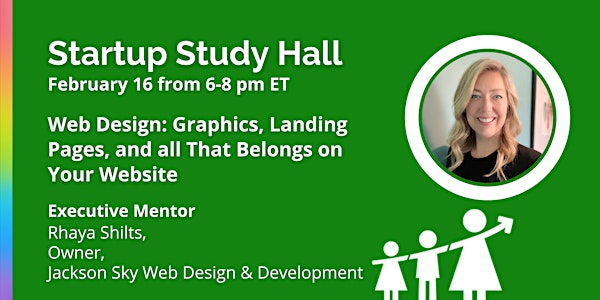 VIRTUAL Startup Study Hall with Rhaya Shilts
STARTUP STUDY HALL
About this event
Web Design: Graphics, Landing Pages, and all That Belongs on Your Website
Rhaya Shilts, owner at Jackson Sky Web Design & Development will discuss graphic design, web design, and building a successful website. What should be on a landing page? When should you have a website? How can you use social media until you're ready to build a website? Register to learn from an expert!
AGENDA
6:00 pm - Guests arrive and introduce themselves
6:15 pm - Welcome and introduction
6:20 pm - Presentation
7:25 pm - Homework assignment
7:30 pm - Socializing in chat rooms
8:00 pm - Wrap up!
WHO SHOULD ATTEND?
Entrepreneurs at any stage
Sales professionals
Investors who want to support their founders
Nonprofit leaders
LET US INTRODUCE YOU!
Post your photos, quotes, and learnings using #StartupStudyHall
Tag us: @IamAStartupLady
We'll re-post your posts and all of our followers get to see you and your company!
BIO OF RHAYA SHILTS
Rhaya Shilts is an owner at Jackson Sky Web Design & Development, which was founded in 2008. She grew up in Ft. Wayne, Indiana – the birthplace of the first practical gasoline pump. She attended Indiana University where she earned a degree in Fine Art. Rhaya also enjoys playing sports, photography, traveling, and animals. Her love for animals has gotten her involved with Paws & Think, an organization that brings homeless dogs and disadvantaged people together.
Rhaya lives in Carmel, Indiana with her husband, two sons and dog. When she's not planning events to help animals and people, jet-setting or driving, she's working diligently to run Jackson Sky.
DIVERSITY & INCLUSION
We believe that diversity and inclusivity make our startup culture more fun, experienced, and intellectually stimulating. Anyone (including men) are invited to participate in ALL Startup Ladies educational programming, events, and membership.
The Startup Ladies strive to uphold the highest ethical standards of inclusiveness and respect. In the event of a violation of these standards, we reserve the right to ask you to leave an event or to terminate your membership.
TICKETS
Members may attend Startup Study Halls at no additional fee. The public may purchase individual tickets to Startup Study Hall at $25.
*Tickets are non-refundable.