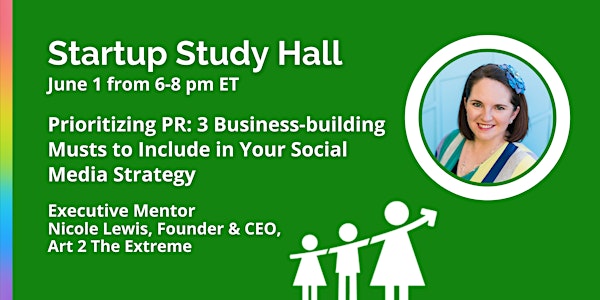 VIRTUAL Startup Study Hall with Nicole Lewis
Learn to create a social media strategy that will increase awareness about your company and help you gain followers.
Refund Policy
Contact the organizer to request a refund.
Eventbrite's fee is nonrefundable.
About this event
Prioritizing PR: 3 Business-building Musts to Include in Your Social Media Strategy
Throw away those old press releases! Be the boss of your PR through storytelling, growing long-term relationships with the media, and building your own media list to get publicity effectively, efficiently, and confidently. Nicole Lewis will share key elements to getting your own press in 2022 and how to leverage your media coverage for a stronger social media and marketing strategy.
AGENDA
6:00 pm - Guests arrive and introduce themselves
6:15 pm - Welcome and introduction
6:20 pm - Presentation
7:25 pm - Homework assignment
7:30 pm - Socializing in chat rooms
8:00 pm - Wrap up!
WHO SHOULD ATTEND?
Entrepreneurs at any stage
Sales professionals
Investors who want to support their founders
Nonprofit leaders
LET US INTRODUCE YOU!
Post your photos, quotes, and learnings using #StartupStudyHall
Tag us: @IamAStartupLady
We'll re-post your posts and all of our followers get to see you and your company!
BIO OF NICOLE LEWIS
Nicole Lewis is the Founder and CEO of Art 2 the Extreme, LLC, located in Noblesville, IN. Since 2007, Nicole has made her colorful mark on the world of art supplies and children's gifts through her playful collection of Original Rainbow Crayons®. Her designs not only provide a unique gift for any occasion, but also take a creative approach to the fun and functionality of traditional crayons.
Before devoting her work full-time to the crayon business, Nicole drew inspiration for her specialty crayons from her 15+ years of expertise in the arts, with 8 of those years as an Elementary Art teacher in the Lebanon Community School Corporation.
In 2017, Nicole began to pursue her own press opportunities to grow her business and found great success on both on a local and national level. This came from opportunities she created herself with $0 advertising spent. Her work has been featured in major publications such as Food Network Magazine, Real Simple, Martha Stewart Living, Good Housekeeping, Forbes, and People. She has collaborated with companies like Netflix, Pandora, and Microsoft, as well as created specialty crayons for The Ellen Show, The Oprah Winfrey Network, Sephora and Marco Polo. In 2020, Nicole was a finalist in the Etsy Design Awards, with her personalized designs finishing among the Top 10 best products in the Kids category worldwide.
With over 200 media placements in television, online articles and print magazines under her belt, Nicole is passionate about teaching others how to "DIY" your own PR, leverage press opportunities and use relationship building in the media industry to develop and grow a business, brand, or personality.
CONNECT WITH NICOLE LEWIS
Instagram: instagram.com/art2theextreme/
LinkedIn: www.linkedin.com/in/art2theextreme
Facebook: www.facebook.com/theoriginalrainbowcrayon
Etsy: www.etsy.com/shopart2theextreme
Website: www.art2theextreme.com
DIVERSITY & INCLUSION
We believe that diversity and inclusivity make our startup culture more fun, experienced, and intellectually stimulating. Anyone (including men) are invited to participate in ALL Startup Ladies educational programming, events, and membership.
The Startup Ladies strive to uphold the highest ethical standards of inclusiveness and respect. In the event of a violation of these standards, we reserve the right to ask you to leave an event or to terminate your membership.
TICKETS
Members may attend Startup Study Halls at no additional fee. The public may purchase individual tickets to Startup Study Hall at $25.
*Tickets are non-refundable.