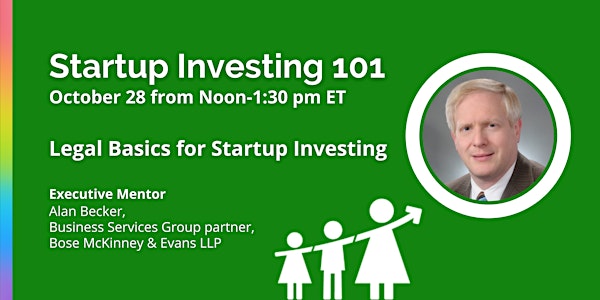 VIRTUAL Startup Investing 101 with Alan Becker
This event is for MEMBERS + special guests ONLY. If you would like to learn about attending this event, email: Info@TheStartupLadies.org.
About this event
Legal Basics for Startup Investing:
A discussion about typical legal documents and issues in startup investing.
VIRTUAL Startup Investing 101
Startup Investing 101 is an educational program for individuals who have the financial capacity to invest $5,000+ in a startup at the pre-seed or seed stage.
Each month, attendees learn something new about startup investing, meet fellow funders and founders, listen to pitches, and have the opportunity to invest directly into a startup.
The Startup Ladies is a leader in helping founders secure PRE-SEED funding. Pre-seed money is the first "round" of funding typically sourced from friends, family, accelerators and some angel investors. Pre-seed money allows the founder and her team to achieve defined benchmarks. Examples of key milestones and expenses include hiring key staff, developing and testing a product or service, gaining traction by accruing emails and followers and/or acquiring customers. Reaching the milestones helps the founder secure additional funding in later rounds so the company can continue to scale.
Unless a founder is independently wealthy, she can operate for only a limited time with her own savings. Securing pre-seed capital is extremely difficult for founders without access to networks of affluent people conditioned to write checks for risky ventures. This problem is even greater for entrepreneurs who are women.
In 2019, women received less than 3% of the $136.5 billion invested into U.S. startups, despite the fact that their companies yielded higher ROIs than their male counterparts.
To read more about how PRE-SEED funding helps women succeed click here.
AGENDA
​12:00 pm - Welcome
12:05 pm - Presentation
12:45 pm - Pitches from Startup Ladies members and Q&A
1:30 pm - Wrap up
WHO SHOULD ATTEND?
Entrepreneurs at any stage
Sales professionals
Investors who want to support their founders
Nonprofit leaders
LET US INTRODUCE YOU!
Post your photos, quotes, and learnings using #StartupInvesting101
Tag us: @IamAStartupLady
We'll re-post your posts and all of our follower get to see you and your company!
BIO OF ALAN BECKER
Alan Becker is a partner in the Business Services and Public Offerings and Securities Regulation Groups, assisting clients with many types of corporate and financial transactions, including forming business entities and structuring their ownership arrangements, raising capital from third parties, and buying, selling and combining businesses. He also assists clients with women-owned and minority-owned businesses (MBE/WBEs) certifications.
A summa cum laude graduate of Indiana University Maurer School of Law – Bloomington, Alan served as a note editor of Volume 56 of the Indiana Law Journal. During his career, Alan has helped companies raise over $7.4 billion in public and private offerings of equity and debt securities, has assisted in the purchase and sale of companies worth over $1.5 billion and has worked on the organizational documents of hundreds of corporations, partnerships, limited liability companies and other entities. Alan also assisted in drafting legislation to allow the creation of limited liability companies in Indiana and serves on the Indiana Business Law Survey Commission, advising the state legislature on laws affecting Indiana businesses and proposing legislative changes.
*Previously, John Millspaugh from Bose Mckinney & Evans LLP had agreed to present for this Startup Investing 101. Due to unforeseen circumstances he is no longer available. Alan Becker has agreed to speak in his place, and he will cover the same topic: Legal Basics for Startup Investing.
TICKETS
*Please Note: this event is open to Members and special guests only. Members and special guests will receive a calendar invitation with a Zoom link.
Not an Investor Member yet but interested in attending? We would love to meet you! Please send us an email introducing yourself so that we can give your more information about getting involved: Info@TheStartupLadies.org.
DIVERSITY & INCLUSIVITY
We believe that diversity and inclusivity make our startup culture more fun, experienced, and intellectually stimulating.  Anyone (including men) are invited to participate in ALL Startup Ladies educational programming, events, and membership.
The Startup Ladies strive to uphold the highest ethical standards of inclusiveness and respect. In the event of a violation of these standards, we reserve the right to ask you to leave an event or to terminate your membership.