A safe space for people with chronic pain & chronic illness to come together for conversation about the only certainty in life.
About this event
DEATH CAFÉS are open forum conversations about dying & death with the objective 'to increase awareness of death with a view to helping people make the most of their (finite) lives'
•
ABOUT THE HOSTS
HOME HOSPICE ASSOCIATION is dedicated to delivering hospice palliative care in a non-institutionalized environment where compassion and culturally sensitive human connection are hallmarks: for any one, of any age, at any time, and under any roof.
ABOUT THE FACILITATOR:
Kayla Moryoussef (@GoodDeathDoula) is a Community Worker/Registered Social Service Worker from Toronto who has been volunteering and working in end-of-life/palliative care for over seven years. She is a Death Educator, Death Doula candidate with Home Hospice Association, and project manager for all of their Death Cafés across southern Ontario. Kayla truly believes in the profound power of a 'good death' and its lasting effects on healthy individuals, families, and communities at-large.
•
SPOON THEORY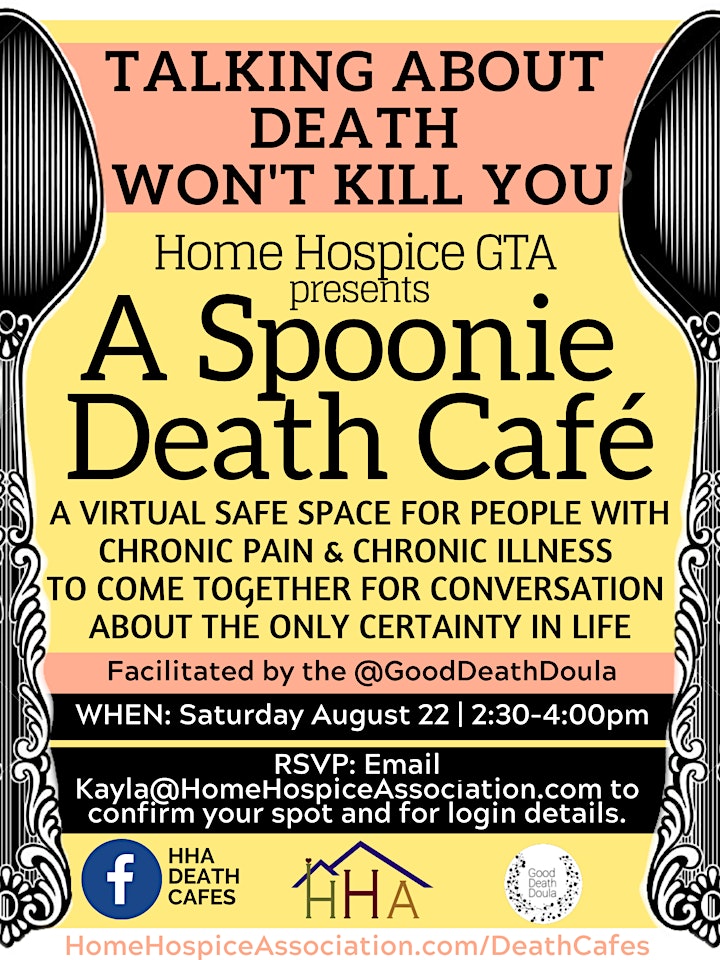 Organizer of Virtual Spoonie Death Cafe - for People with Chronic Illness & Pain
Home Hospice Association (HHA) aims to help communities develop resources to care for their dying in non-institutional environments. Much of the agency's work also focuses on helping all members of any community die a 'good death,' however that may be defined. HHA's organizational values of choice, knowledge, community, collaboration, and empowerment at – and before – end of life lies directly in-line with the values of the Death Café movement.