Event Information
Refund policy
Contact the organizer to request a refund.
Eventbrite's fee is nonrefundable.
Allow the waves of sound to wash over you, harmonizing your body, mind & spirit.
About this event
As we continue to navigate the uncertainties of the world, it's important to pause and cleanse your spirit.
Join us for a sonic journey to bring you relaxation & nourishment.
Through the use of singing bowls, bells, rattles, drums, voice and more, be transported to another realm and find respite from the chaos of life. Allow your nervous system to settle and your mind to find peace.
We will create a sacred space for inner reflection and physical relaxation. We start with the breath and body, while tuning into sounds of nature. We enter the journey with words of intention and follow the sounds to your inner experience. Let the journey guide you in to your inner world, and allow the sounds to support you.
Our sound baths will be held online via Zoom.
*The sound is best experienced with headphones.
Tickets are $15 - $5 for general admission.
OR you can join the Queer Spirit Patreon for $14/month and get free access to the sound bath, AND receive a recording of the event.
**ALL proceeds from this months sound bath will go to www.GiveIndia.org
If you haven't heard India is greatly struggling right now with both Covid and the farmers rights. They need all the help and support they can get right now.
What is a sound bath?
A sound bath is an immersive sound experience using a variety of instruments to take you on an inner journey. Many instruments create sounds that allow the mind to relax and unwind, with steady rhythms or drones. Other sounds are used to wake the mind and spirit, or perhaps loosen and release stuck energies.
Nick creates sound bath experiences on the basis of Nada Yoga.
Nada Yoga is the process of the union of the individual mind with cosmic consciousness through the flow of sounds.
Moving into and through the process of a sound bath can create a wide range of internal experiences - pleasure, discomfort, bliss, sorrow, joy, or euphoria. Often people report visual imagery, like in a dream. All of these are OK and supported to increase awareness of the mind and spirit.
A sound bath is not a concert nor a performance of songs. It is an improvisational flow of the practitioner with the attendees.
below: Nick is welcoming attendees to the Zoom room & preparing for the sound bath experience.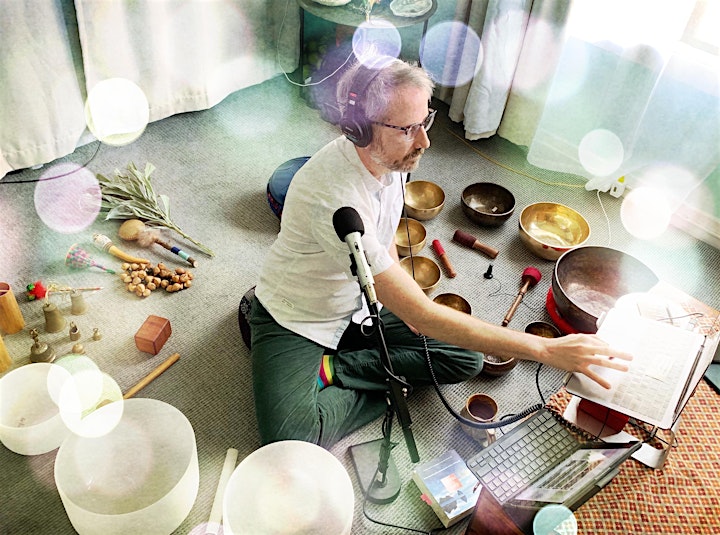 Date and time
Location
Refund policy
Contact the organizer to request a refund.
Eventbrite's fee is nonrefundable.
Organizer of Virtual Sound Bath
Nick is a holistic psychotherapist, coach and hypnotherapist based in San Francisco. He played classical piano in his youth, and has sung in multiple community choruses. Some of his teachers and influences in sound healing are Laura Inserra, Tom Kenyon, Silvia Nakkach, Isa Gucciardi and Karma Moffett. He has a passion for earth-based and LGBTQ+ spiritualities, and transformational healing.
QueerHealingJourneys.com - HolisticTherapySF.com - The Queer Spirit Podcast