Virtual Social Media Show & Tell - December 2020
Event Information
Refund Policy
Refunds up to 1 day before event
Eventbrite's fee is nonrefundable.
This event serves as a gathering space for Digital Marketing executives, strategists, & consultants to learn the latest and be their best.
About this Event
EVENT DESCRIPTION
We are excited to announce that the first Social Media Show & Tell of 2020 is FINALLY here. While things might look a little different this time around, we are excited to bring you even more value in this packed event.
*If you originally purchased your ticket for the Social Media Show & Tell in March, your ticket will carry forward to this event at no additional cost.
Here's what you can expect:
First, this Show & Tell's presentations will be live-streamed! We're excited to kick things off digitally with social media experts from AGAR and Jumpsuit Marketing.
Following these presentations, we'll host a fireside chat with Cincinnati Experience to learn how their one-woman show achieves so much success even with limited capacity.
Back by popular demand, we'll be showcasing the 'wisdom of the crowd' through our speed round of one-minute presentations.
We'll end with moderated Zoom Breakout Sessions to talk about what you learned and network with other attendees.
While we might not be able to bring you to us for this event per social distancing, we can send a piece of this event to you! See details below regarding this delightful day-of-event package.
Invite your team! Group discounts are available, just email info@dooleysocial.studio.
Bonus: a recording of the event is included with your ticket!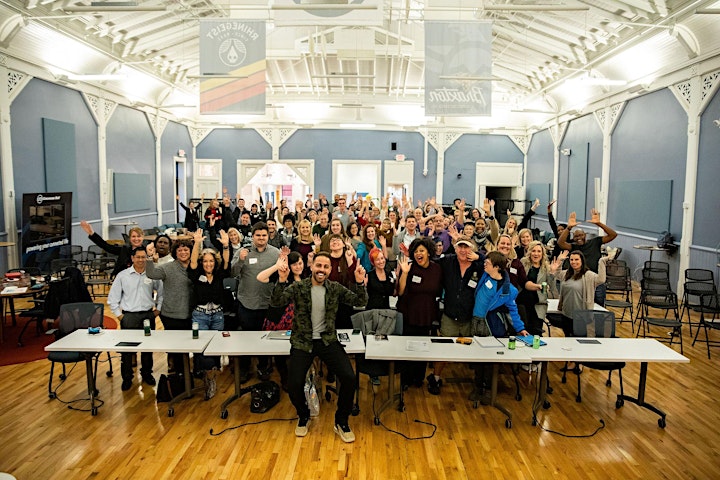 THE EVENT
What started as a small gathering for social media enthusiasts has grown to a quarterly event series featuring practitioners who share a behind-the-scenes look at how businesses succeed with social. Since its inception, the event has served as a gathering space for executives, strategists, and consultants to learn the latest and be their best.
SPEAKERS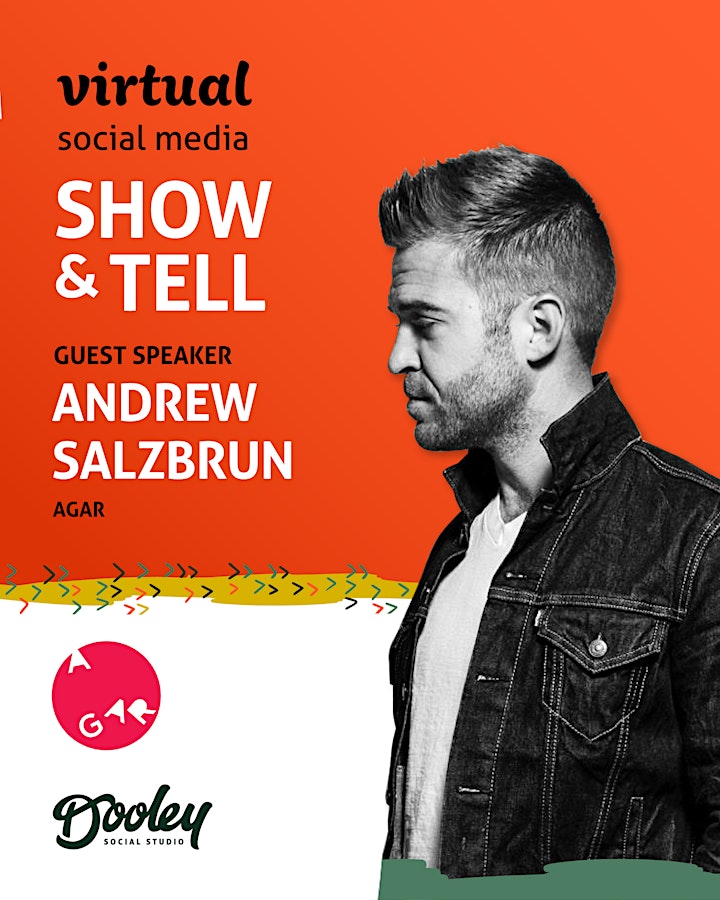 BIO: A partner in Experiential agency the AGAR, Andrew leverages human experiences, event production, digital platforms, music, art, and content design to grow a brand's culture. Andrew is also a partner in the Hickory Wald hospitality group based in Cincinnati, OH. With a portfolio of bars and restaurants, their group focuses on planting flags in communities to foster both economic and social growth in that neighborhood. A leader in the entrepreneurial community in Cincinnati, Andrew is a founding member of Unpolished (now OCEAN), a platform for entrepreneurs to explore the intersection of faith and entrepreneurship. With its 4,000 members, Unpolished provides a home for entry-level to mature entrepreneurs to foster and grow their business.
PRESENTATION:
TITLE: Unforced Fascination - Creating Memorable Social Content
DESCRIPTION: Why making memories is the key to impactful social content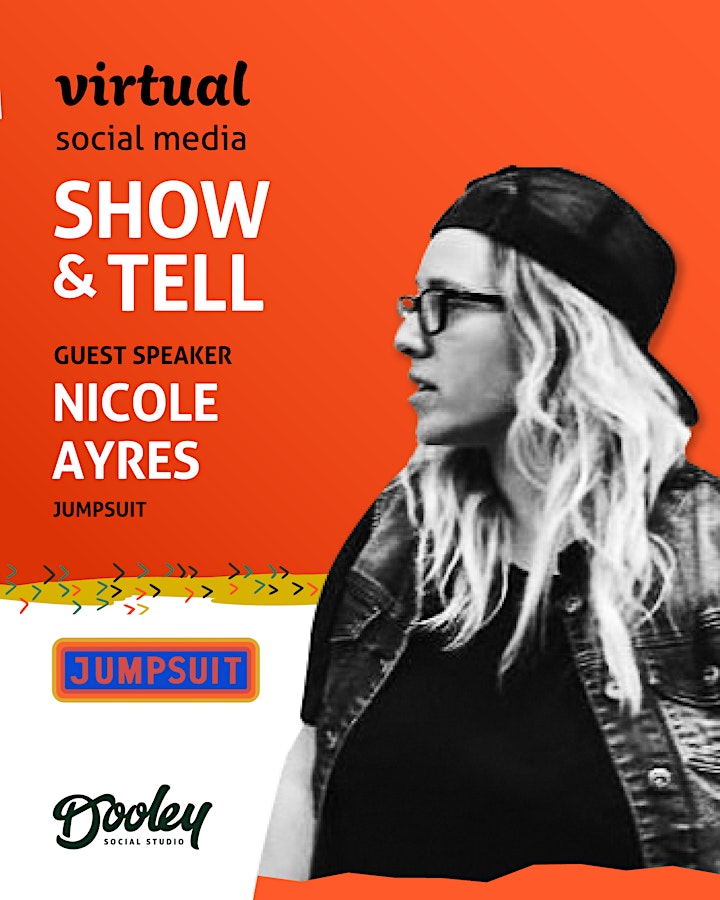 Nicole Ayres, CEO @ Jumpsuit Marketing
BIO: Nicole is an entrepreneur and Creative Director who specializes in building brands and telling their stories. She co-founded Kofenya Coffee, Urbanist Insider, and currently serves as founder and CEO of Jumpsuit – a fast-growing agency built entirely on the independent contractor network. Nicole is a Cincinnati-native, a semi-recent transplant to Nashville, TN, and a personality nerd certified in the MBTI and Enneagram.
PRESENTATION: 
TITLE: How to pull off content at scale
DESCRIPTION: Sorry Gary Vaynerchuck, not everyone has the personality (or the money) to have a camera crew around 24/7. So what does it look like for brands big and small to get more content fast and affordably? And, more importantly, how do they prove ROI? Nicole will share hacks from content strategy to production to analytics to get your team not just creating more, but learning more than ever.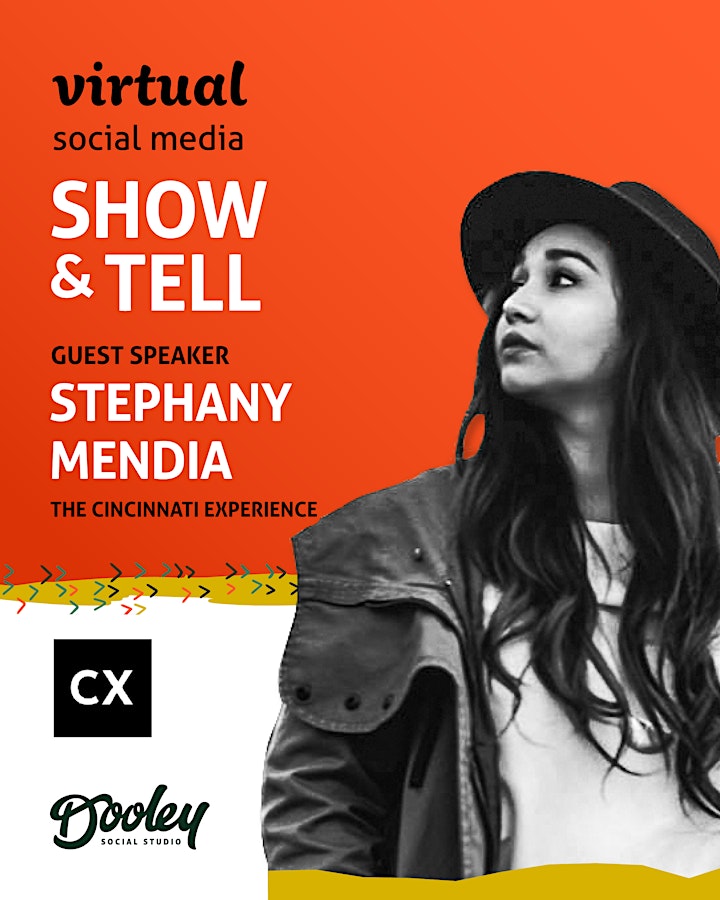 Stephany Mendia, Communications & Content Coordinator @ The Cincinnati Experience
BIO: Stephany Mendia is the one-woman team spearheading content and communications for Cincinnati Experience, an organization showcasing what the Queen City has to offer to visitors, newcomers, and native Cincinnatians. She believes that within the ever-changing world of social media, everyone has the ability to learn to tell their story authentically. Under her direction and leadership, the @CincyExperience brand has gained over 25k followers across various social media channels. Stephany is also a Northern KY native currently residing in Covington.
PRESENTATION: 
TITLE: Fireside Chat with Matthew from Dooley Social Studio
DESCRIPTION: Stephany will reveal her tips and stories for achieving social media success with limited capacity. If you've ever Googled "how to grow my social media followers" you know it's easy to become overwhelmed with tips on how to hack the algorithms and how many dollars to put behind a video. Stephany will discuss how organic strategies like intentional online encounters and a clear voice can help your platform grow in areas like reach, engagement, and followers.
DAY-OF EVENT PACKAGE
This may be the best part! To help you get the most out of the experience, we're sending each attendee a box filled with:
Printed program
Scented candle
Custom social media socks
Carabello coffee
Endangered Species Chocolate
Social media stickers
And more!
For those who work or live within 10 miles of downtown Cincinnati, be sure to purchase your ticket prior to 12/7 so we can hand-deliver the event package. If not by 12/7 or if you prefer otherwise, we will have these packages available for pickup at our office. For those not local to Cincinnati, we will be sending you our virtual event package via email.
CROWD PARTICIPATION
This time around, crowd participation will look a little different but we're excited to showcase another round of one-minute presentations on various social media topics, best practices, tools, case studies, and more! If you're interested in speaking, drop us a line: info@dooleysocial.studio.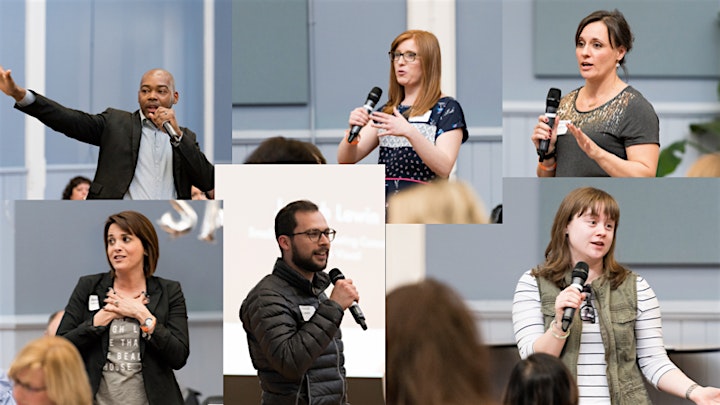 AGENDA
11:00-11:05 AM: Soft opening of the Livestream
11:05-11:30 AM: Andrew Salzbrun's Presentation
11:30-11:55 AM: Nicole Ayres' Presentation
11:55-12:10 PM: Fireside chat with Stephany Mendia
12:10-12:20 PM: Speed round (1-minute presentations)
12:20- 12:50 PM: Breakout Session via Zoom
12:50-1:00 PM: Zoom Breakouts will remain open for networking

WHO SHOULD ATTEND?
CMOs/Directors of Marketing
Digital Media Managers
Social Media Strategists
Agency and In-house Creatives
Marketing Consultants
Internet Marketers
Public Relations Professionals
Brand Strategists
Small Business Owners
Nonprofit leader

VIRTUAL ATTENDANCE
In order to keep the event intimate and maximize learning opportunities, we're limiting the ticket quantity for this event. Get in on this event early, as it will sell out!
*If you purchased a ticket for our last postponed Social Media Show & Tell, these tickets will be honored for this event. If you have any questions, please reach out to us at info@dooleysocial.studio.

WHAT THEY SAID:
See all of the recaps from past events here, and see below for what attendees have said...
"Social Media Show & Tell was an awesome event! It was inspiring to see such a big crowd excited about social media and feeding off the energy of the speakers." - Luke Oppliger, Director of Marketing & Creative, UpWest
"It was great, as always! Some really good takeaways and thought-starters for us." - Susan Lomax, Source Cincinnati
"I attended the second Social Media Show & Tell expecting a standard 'roundtable discussion' from which I hoped I'd learn something. It turned out to be a real meeting of minds of social media practitioners of all stripes. I enjoyed the engaging conversation and not only learned new things, but was inspired to think differently about our own social strategy. You shouldn't miss the next one." Pete Buscani, CMO at LaRosa's
"Such a great event! Highly recommend for not only those in social/digital marketing but just business in general. Lots of learning!" - Jennifer Loftus, JJL Marketing Solutions
"Great event! I truly appreciated being there. Really good exposure and learning. Most of the content made sense, even when it fell outside of my professional experiences and it also highlighted just how much I have yet to learn. That's kinda the point, right?" - Lisa Scheerer, Mayerson Academy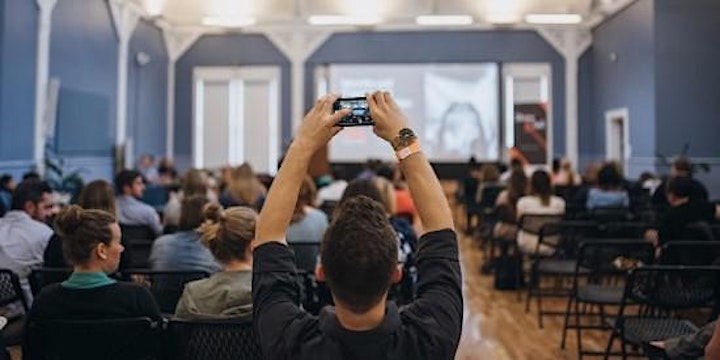 Date and Time
Location
Refund Policy
Refunds up to 1 day before event
Eventbrite's fee is nonrefundable.