To help get the year 2021 started in a positive way, we are hosting a virtual "Social Hour."
About this event
Central Indiana AES Section joins in toasting the New Year!
To help get the year 2021 started in a positive way, we have opted for a virtual "Social Hour."
This will be an opportunity to re-connect with your professional friends in the audio and related fields…
- catch up on what you've been doing
- chat about what's ahead
- share any concerns or positive events during the pandemic
- chat about industry happenings, changes, trends
- find out which company bought out the other
We hope this will be a way to help engage members and professionals in looking forward to a solid recovery in the New Year. If there are enough participants, we will set up breakout rooms to provide a better opportunity to share among a smaller group.
Looking forward to seeing and hearing from you on January 5th! Don't forget to bring your favorite drink so we can to toast to everyone's health and well-being in the New Year.
When: Tuesday, January 5, 2021
Time: 7:00 pm – 8:00 pm (EST)
Where: Zoom meeting
*register now to receive Zoom meeting connection info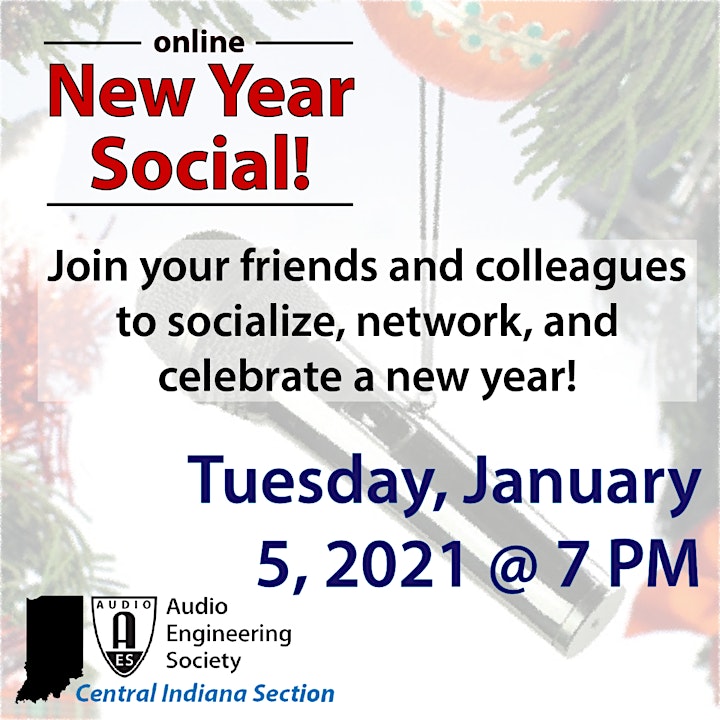 Organizer of Virtual Social Hour to Celebrate the New Year
The Central Indiana Section of the leading professional association worldwide for professionals and students involved in the audio industry. The AES serves its members, the industry and the public by stimulating and facilitating advances in the constantly changing field of audio.