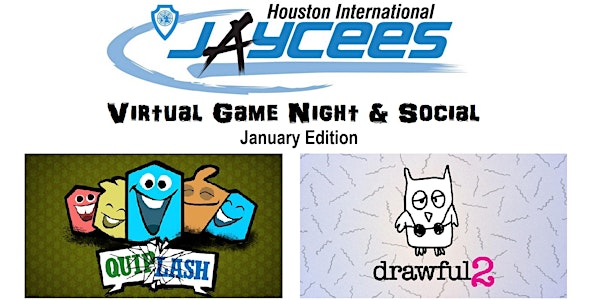 Virtual Social & Game Night
Join the Houston International Jaycees for the first social event of 2021 with playing up to 25 great games from JackBox!!
About this event
Want to celebrate the New Year with some fun, exciting games? Looking for a fun way to meet new people?
Join the first social online event of 2021 with the Houston International Jaycees with a game night. We will be playing games from the Jackbox Party Quintpack with over 25 different games. Some old time favorites include Quiplash XL, Drawful 2, Surviving the Internet, and more! If you have not played before, don't worry!! These games are easy to learn and fun to play. It is hilarious and you can be as creative as you want to be, but no promises you will win. All you need to play is your phone and a computer or tablet with a web browser opened.
What to learn more about Jackbox?
https://www.jackboxgames.com/what-is-jackbox/
This is a great way to meet and network with follow young professionals in your local community and beyond!
Also, we will be introducing the new 2021 HIJ board members and learn more about how HIJ is the young professional organization that offers great opportunities for leadership trainings, networking, volunteering, socials, and more! See what new events for 2021 are coming up. It's a great chance to meet new people and make new friends who want to create positive changes for themselves and their communities!
Let the games begin!
Start Time: 7 PM
Zoom Meeting Information
ID: 835 4133 4574
Passcode: Game24
Link: https://tinyurl.com/y8fbfkpq
If you have any questions, please contact President Nicole Jones at jcihoustonintl@gmail.com
-------------------------------------------------------------
The Houston International Jaycees are an award winning young professional organization that develops leadership through service to humanity. Houston International Jaycee's goal is to help young professionals between the ages of 18 and 40 develop personal and leadership skills and give them the tools to build the bridges of success for themselves in the areas of business development, management skills, individual training, community service, and international connections.
Follow us on Instagram, Twitter, Linkin, Eventbrite, Meetup, and Facebook