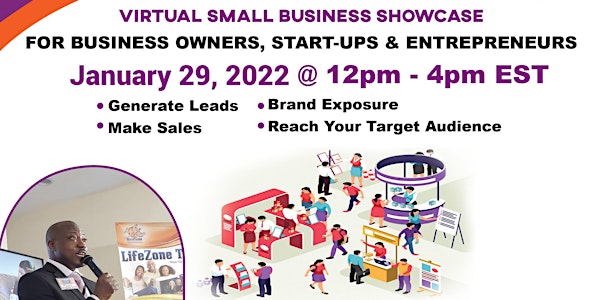 Virtual Small Business Showcase - For Business Owners and Start Ups
Virtual Small Business Showcase - an event for businesses to showcase their products and for consumers to get products at a bargain.
About this event
Virtual Small Business Showcase is the Event to take strategic action to immediately improve and grow your Small Business
Hosted Virtually, passionate Small Business Owners gather at Virtual Small Business Showcase to promote their products and services, offer great discounts and sales to consumers and educate potential consumers on what to look for while shopping for products and services in their area of expertise. This is a great event FOR BUSINESS OWNERS, START-UPS AND ENTREPRENEURS
It is a free virtual business to consumers trade show attracting thousands of consumers looking to buy products and services from vendors like you.
Date: January 29, 2022 @ 12pm-4pm EST
Exhibition will be done via Zoom. Zoom information will be sent after you register.
In addition to the free showcase package, there are other exhibition packages that is designed to meet your marketing needs. Please check our website for other showcase packages at www.virtualbusinessshowcase.com
EXHIBIT & REACH THOUSANDS OF POTENTIAL CUSTOMERS
LIVE OR VIRTUALLY
GENERATES LEADS
BRAND EXPOSURE
MAKE SALES
For a list of exhibition packages, visit www.virtualbusinessshowcase.com