Description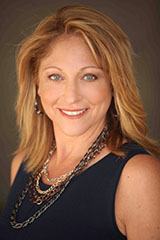 Join NAWBO Southern Nevada for a Virtual Seminar with Margaret Graziano, CEO of Conscious Hiring and Development! Beverages and appetizers will be provided.
Leaders in the early 21st Century face unprecedented challenges. Five generations of people, all with different values, operating contexts and outlooks on the world of work, are now working together.Today's leaders need to understand people at their core like never before. Because employees are looking for stimulating and rewarding work, it is the job of the leadership team to ensure these opportunities are presented and maintained.
Creating inspiring work environments where employees can make a difference, grow themselves and their careers, is the first step.In her presentation, Margaret will share three tenets to evolve your leadership skills. She will show you how to boost your leadership IQ, so you can master new ways to lead people. Self-awarenessNot always easy, self-awareness is the doorway to emotional intelligence. It gives you access to real improvement, as well as personal and professional development. Taking responsibility for the impact of your behaviors, asking for forgiveness and working to shift your limiting ways of being is where leadership IQ begins.
Once self-awareness is mastered, leaders can optimize their ability to leverage situational awareness, which is fundamental to assessing, evaluating and intervening if need be, in the ebbs and flow of the climate and culture of their organization. Executive brain function. This is a secret ingredient to leadership IQ. It means understanding the variations between the left brain and right brain. When a leader is utilizing all of their capacities, they see things they might not see and are more equipped to respond to climate and culture barriers, as well as infringements.
Response agility is the ability to respond in an appropriate, controlled manner — regardless of the current stress or breakdown the leader is facing. Agility in your response means you have trained yourself to think before reacting.Learning the fundamentals of how people operate and how to inspire them is the easy part. Mastering those skills is leadership IQ. Let Margaret show you how leadership IQ can become your competitive talent advantage to recruit and retain the best people.
What Attendees Can Expect
• Three essential tenets to evolve your leadership skills — self-awareness, executive brain function and response agility.
• A deeper and relevant understanding of the five generations at work.
• How to become masterful at leadership IQ.

FAQs
How can I contact the organizer with any questions?
Email president@nawbsnv.org or prigrams@nawbosnv.org or call (702) 524-6208
What's the refund policy?
No refunds
Do I have to bring my printed ticket to the event?
No