JOIN OUR INTERACTIVE, LIVE, WEB-BASED WORKSHOP FROM THE COMFORT OF YOUR HOME OR OFFICE!
About this Event

Individual registration: $195
SPECIAL GROUP PRICING FOR COMPANIES: Bring up to 8 people from your company for only $299 . For the best results & biggest impact, bring your leadership team.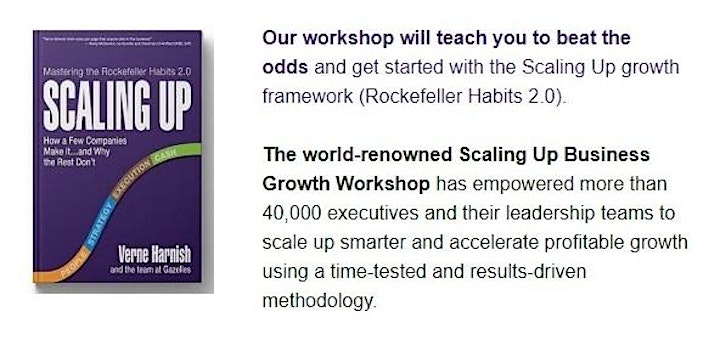 IT'S TIME TO PIVOT TO SCALE UP AND THRIVE!
Now is the perfect time to LEARN NEW TOOLS AND STRATEGIES to help navigate this challenging time using the proven Four Decisions Methodology and Rockefeller Habits.
This interactive workshop will teach you the Four Decisions Every Executive Must Get Right to beat the odds in both good times and bad:
Find CASH to weather the storm and seize opportunity
Update and pivot STRATEGY to grow right now using special planning tools for tumultuous times
Achieve flawless EXECUTION to avoid costly mistakes
Engage the right PEOPLE and keep your team healthy!
We are committed to offering resources and support while you navigate this uncharted territory caused by the COVID-19 pandemic, and we understand these are difficult times and normal activities and schedules have changed. So we've changed the format of this Scaling Up Workshop to an online event.
THE SCALING UP PROCESS STARTS WITH AN EMPHASIS ON THE FOUR DECISIONS EVERYONE MUST GET RIGHT:
Attract and Keep the right PEOPLE
Become a magnet for A-Players
Align your team around core values
Increase accountability & results
Create a truly differentiated STRATEGY
Clarify your brand promise
Discover your SWTs
Determine your 3-year key strategies

Drive flawless EXECUTION
Learn & apply the Rockefeller Habits 2.0\
Create a culture of accountability
Fine-tune processes to run without drama

Have plenty of CASH
Accelerate cash flow to fuel your evolution
Improve your sales cycle
Ensure you are never short on cash

How to create a company strategy that dominates your industry.
How to create a winning team that is engaged and aligned with your vision
How to develop systems and processes that run without drama and drive industry leading profitability
How to generate consistent sources of cash to fuel the growth of your business
Build an Unshakable Foundation for Sustainable Growth
ALIGN
Get faster results with less effort by developing organizational clarity and accountability.
ACCELERATE
Develop a strategic advantage over the competition. Position your brand as a market leader.
ADVANCE
See your company's reputation and revenues soar as employees understand and fulfill 100% of your brand promises.

An assessment of your organization and where you are today in the Scaling Up process
Defined targets and initiatives for the coming year to set it up for success
An identified top priority the company must tackle in the next quarter with action items to ensure completion
New connections and accountability with like-minded business leaders

1-hour private consultation after the workshop (one per company)
One-Page Strategic Plan and other actionable tools to help grow your business
Certificate of Scaling Up Workshop Completion
Half day of training with a Scaling Up Certified Coach
Opportunity to connect with other CEOs and Senior Executives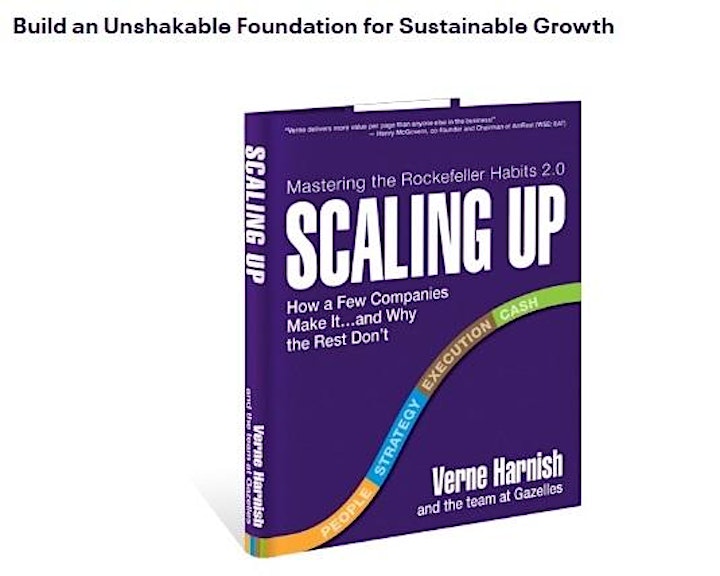 WATCH THIS 2-MINUTE VIDEO TO LEARN MORE ABOUT THE FOUR DECISIONS SCALING UP BUSINESS WORKSHOP

Hear what clients of Patricia are saying:
"Patricia laid the groundwork for a transformation of our culture to be truly focused on measurable results, key performance, accountability, and credibility. We began to change the elements that were holding us back from how we communicated with one another and the content of our leadership meetings to how we behaved as leaders collectively guiding the organization to achieve strategic goals." - Karen Wall, Senior Vice President-Corporate Infrastructure, Akibia, Inc.
"Patricia has a sincere interest in seeing your business scale to new heights. Many times it's about knowing what questions to ask in order to get the best solutions to your problem. Patricia does a great job getting you to bring out the answers you've been looking for. Many businesses will run their business blindly, but with Patricia's help, you will get a GPS for your business that will guide you through the process of creating a great company." - Louis Chavez, Chavez Web Design
Hear what Scaling Up Alumni Are Saying:
"I was in a YEO Forum with a guy who took his company from $7 million to $40 million; after hearing his repeated references to Verne Harnish, I finally attended the Rockefeller Habits workshop. Without ever going, I would still be running a mom and pop operation, and hating my job!" - Scott Nash, CEO, MOM's Organic Market
"Three years ago we began the process of evaluating our team each quarter under the guidance of our Gazelles International certified coach…Two years later, we can proudly say with confidence that these processes have made significant, measurable improvements in our company, our culture, and our results." -Heidi Piper Schultz, Owner & Vice President, Corwin Beverage
"I spoke to a group of CEOs and told them they needed to attend a Rockefeller Habits workshop and if they did not love it I would pay for their attendance!" -Dwight Cooper, CEO, PPR Healthcare Staffing
"We attempted to apply the Habits by ourselves, but then we decided to sign up for a Rockefeller Habits workshop and started working with a certified Gazelles coach. The results have been phenomenal. As a result of our success, I now actually have the time to work on my business (and myself). Thanks to Gazelles for being a huge part of our success at P2P!" - Dan Rogers, President & CEO, Point to Point Transportation Services, Inc.
Register for the Scaling Up Business Workshop Today!
We'll help you master the Four Decisions and more, and give you the tools to strengthen collaboration, accountability and effectiveness within your organization from the top down!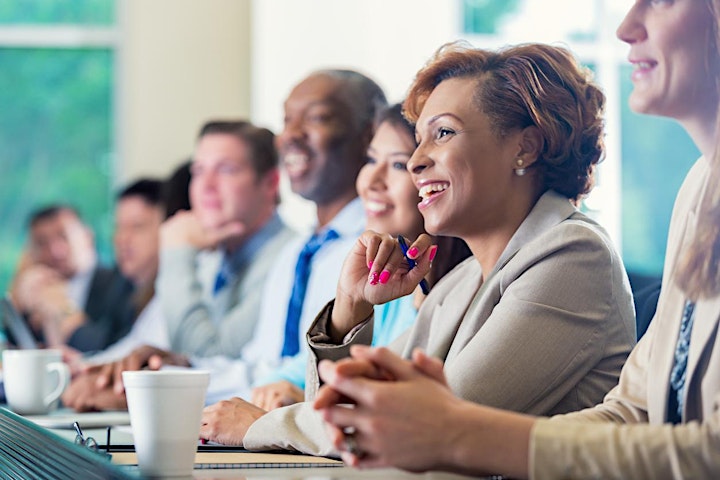 If you are a CEO, entrepreneur or member of the leadership team, this workshop is for you!
As an attendee, you will take away actionable insights to address the #1 challenge you are facing.
To maximize results and return on investment, we encourage leaders and senior teams to attend together.
FAQs
How do I connect to the virtual workshop?
We will be using Zoom Meeting to deliver the workshop. As we get closer to the date, you will receive an email with instructions for connecting via Zoom.
What is your Refund Policy?
No refunds. Eligible for transfer to future workshop.
How can I contact the organizer with any questions?
Email: Patricia@bridgingassociates.com
Website: http://www.bridgingassociates.com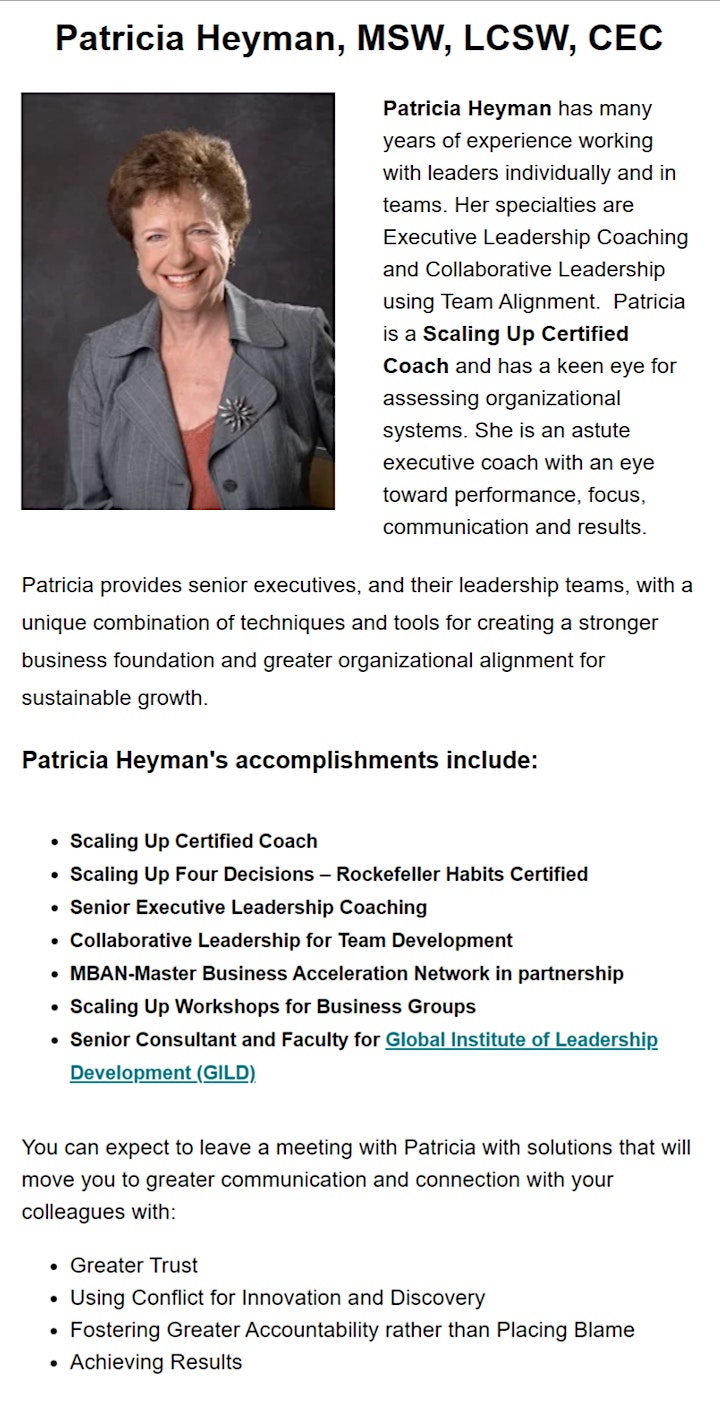 Patricia is the founder of Bridging Associates

Date and Time
Location
Refund Policy