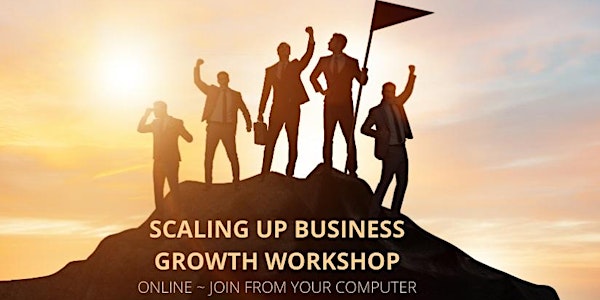 Virtual Scaling Up Business Growth Workshop - 8:30 AM - 12:30 PM
Are You Ready for a Quantum Leap in Your Business Results?
Refund Policy
Refunds up to 30 days before event
Eventbrite's fee is nonrefundable.
About this event
Are You Ready for a Quantum Leap in Your Business Results? 
The world-renowned Scaling Up Business Growth Workshop empowers you to accelerate profitable growth using a time-tested and results-driven methodology. Through this exclusive learning experience, Scaling Up Coaches have empowered more than 40,000 executives and their leadership teams with proven tools and strategies to scale up smarter.
Build an Unshakable Foundation for Sustainable Growth
Learn the Four Decisions Every Executive Must Get Right to Scale Up Their Business
- Each company will get a 1-hour private consultation after the workshop.
Attract and Keep the right PEOPLE
• Become a magnet for A-Players • Align your team around core values • Increase accountability & results
Create a truly differentiated STRATEGY
• Clarify your brand promise • Discover your SWOTs and trends • Determine your 3-year key strategies
Drive flawless EXECUTION
• Learn & apply the Rockefeller Habits 2.0 • Create a culture of accountability • Fine-tune processes to run without drama
Have plenty of CASH
• Accelerate cash flow to fuel your evolution • Improve your sales cycle• Ensure you are never short on cash
TESTIMONIALS
"Bahaa is top of the list when you think about a true thought leader – thought provoker – thought challenger.  I have worked with many corporate coaches over my 3 ½ decades in lending, none hold a candle to Bahaa. His real-world experience, ability to break down a complex challenge and communicate that in a way that Simplifies the proposed solutions is world-class. When your company is ready to take the business to the next level, call Bahaa."  - William J. Tessar, President, Civic Financial Services
"I attended the Scaling Up Business Growth Workshop run by Bahaa and was very impressed. I'm normally very skeptical of these types of training sessions, especially as in this day and age of Zoom sessions there tends to be hundreds of people and lack the interaction and individuality needed. Bahaa's course couldn't be further away from that experience. With no more than 12 people on the session, Bahaa was able to provide all the insightful content as well as engaging the entire class to participate and share their experiences – it's a rare skill to be able to do this. I walked away with a page full of actions, thoughts and steps that I will now take as a direct result of the course – again, something I very rarely do. I thoroughly recommend attending one of Bahaa's courses and experience this for yourself – I promise you won't regret it." - Nick Foy, Founder & CEO, Silverdale
"Bahaa's coaching has dramatically increased our communications levels and improved our relationships, allowing us to move forward with clear priorities and action plans. Every employee is now involved and has a role in the company's growth. We highly recommend Bahaa Moukadam for helping your business break out and reach the next level of growth." - Alan Sherry, President, Stellar Technical Products
"Bahaa was able to quickly diagnose the situation at Wandel & Goltermann K.K. and help us zero in on the handful of actions to take and activities to stop for us to turn things around. Consequently, through our effort and his guidance, we were able to not only halt the decline but triple our sales two years in a row. It was great having him work with us to illuminate the right way forward." - Yoichi Kataoka, Business Development Manager
"Bahaa combines 2 key strengths that enable him to be an outstanding leader in High Tech companies. #1 – Bahaa has a strategic vision to see markets as they develop which allows him to get solutions to market early in the adoption curve. #2 – Bahaa is an excellent tactical manager, watching all operational aspects while at the same time giving autonomy to the people who work in his organization." - Roger Lingle, Owner Anthem Wealth
Here's what our CEO alumni have to say:
"I was in a YEO Forum with a guy who took his company from $7 million to $40 million; after hearing his repeated references to Verne Harnish, I finally attended the Rockefeller Habits workshop. Without ever going, I would still be running a mom and pop operation, and hating my job!"
-Scott Nash, CEO, MOM's Organic Market
"Learning and implementing the Rockefeller Habits with Gazelles International tools into Taurus Group has made a huge difference in the clarity of direction, focus on the right priorities, improved communication within the business and faster execution. This has resulted in strong revenue growth, stronger cash flow and a very large improvement in net profit. I consider this a must for any leadership team looking to grow its business."
-E. Wayne Bailey, Director, Taurus Group Limited, New Zealand
"Three years ago we began the process of evaluating our team each quarter under the guidance of our Gazelles International Certified Coach…Two years later, we can proudly say with confidence that these processes have made significant, measurable improvements in our company, our culture, and our results."
-Heidi Piper Schultz, Owner & Vice President, Corwin Beverage
"Mastering the Rockefeller Habits is the best management book I've read. I love its concise format and practical advice on how to grow your company. I use the One Page Strategic Plan with my team every year to set our course as a company. I read the book for the first time three years ago and I re-read it frequently."
-Craig Falk, Owner, Craig Cares
"Recordsforce has been using Gazelles for a year and a half and we love it! It has made an amazing difference for me as CEO to have a real methodology for running my business."
-Bill Becker, President, Recordsforce
"I spoke to a group of CEOs and told them they needed to attend a Rockefeller Habits workshop and if they did not love it I would pay for their attendance!"
-Dwight Cooper, CEO, PPR Healthcare Staffing
"We attempted to apply the Habits by ourselves, but then we decided to sign up for a Rockefeller Habits workshop and started working with a certified Gazelles coach. The results have been phenomenal. As a result of our success, I now actually have the time to work on my business (and myself). Thanks to Gazelles for being a huge part of our success at P2P!"
-Dan Rogers, President & CEO, Point to Point Transportation Services, Inc.
SCHEDULE
- Workshop hours: 8:30 AM - 12:30 PM
Presented by: Bahaa Moukadam - Scaling Up Certified Business Coach
Future Shaper | Real Results | Rewarding Relationships |
Bahaa Moukadam is a Certified Scaling Up Business Coach, Consultant, and Angel Investor.  "My mission is to support business leaders to escape the business busyness trap and have more profit, more freedom, and less anxiety."  Mr. Moukadam is a former Silicon Valley CEO with an extensive track record of success in international business, channel development, innovative product creation, marketing, hyper-growth, M&A, turnarounds, strategic partnerships, and organizational development.
Are you ready to grow your business? 
ALIGN Get faster results with less effort by developing organizational clarity and accountability. 
ACCELERATE Develop a strategic advantage over the competition. Position your brand as a market leader.  
ADVANCE See your company's reputation and revenues soar as employees understand and fulfill 100% of your brand promises.  
Using the Four Decisions, we've enabled companies to dominate their industries and make a bigger difference in the world. 
FAQs
Where can I contact the organizer with any questions?
Bahaa@SeeMetricsPartners.com
 Do I have to bring my printed ticket to the event?
No
What is the refund policy?
Cancellations made 30 days or more prior to the event will receive a full refund. There will be no refund for cancellations less than 30 days before the event.