| | |
| --- | --- |
| VIRTUAL run. 2017 NEVER QUIT | |
Registration Information
This event is invite-only
You need an invitation to register for this event.
Contact the host
to find out more.
Event Details
 It's Virtual, so you can NEVER QUIT and enjoy yourself anywhere.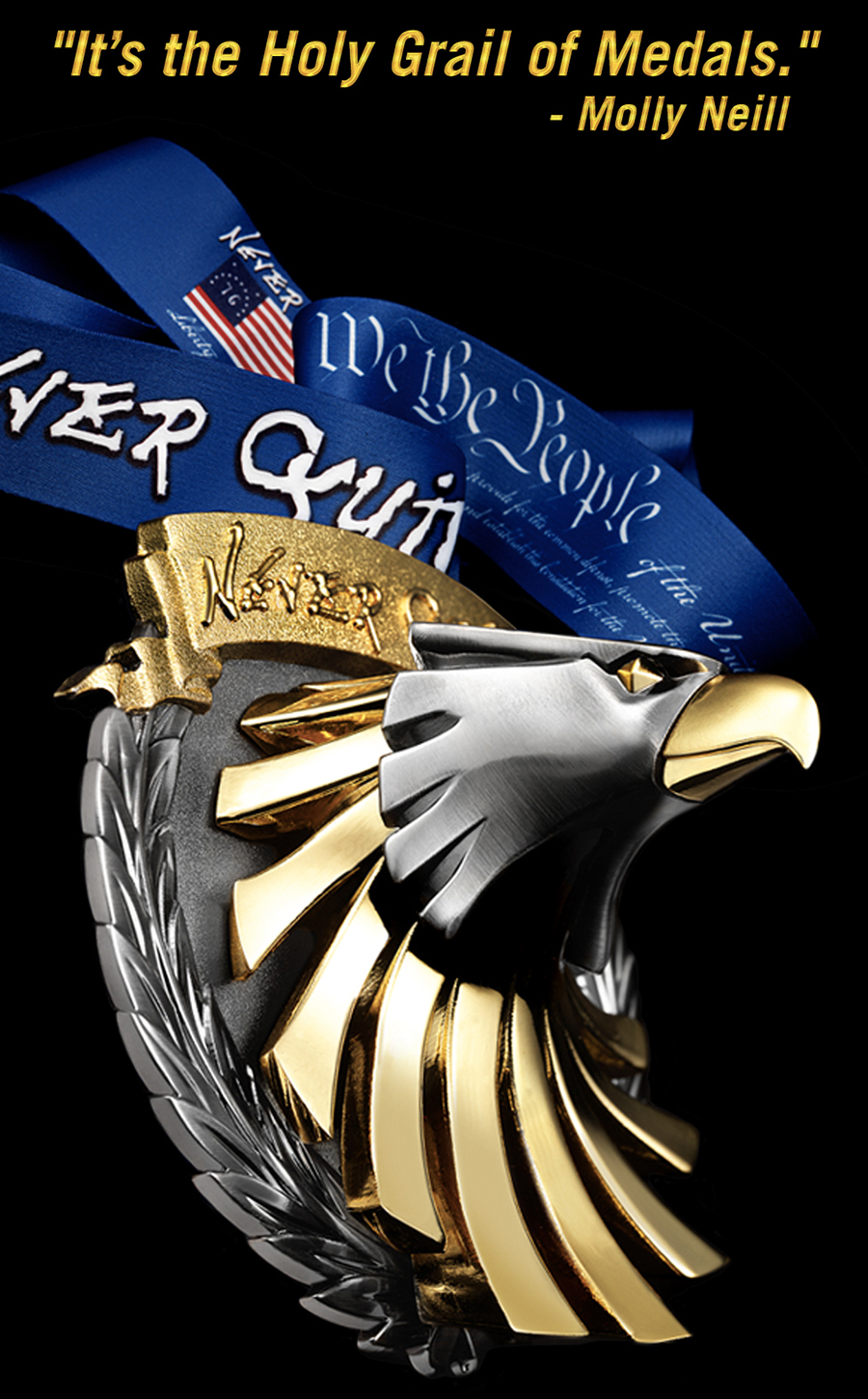 You will be the first ones to receive the new 2017 3D NEVER QUIT Eagle medal.
This 3D NEVER QUIT Eagle medal is world's best running medal ever made, in every way. Period.
With NEVER QUIT, you can experience the world's greatest virtual run at your own convenience, time and place.
NEVER QUIT provides runners & walkers with the very best to motivate you to run or walk, get active and healthy and reward you like no other race.
Simply register and choose one of the below race options for a NEVER QUIT Virtual Race and run when and where ever you want.  You can do it by yourself or ask a friend(s) to do it with you.  
The NEVER QUIT Virtual race is a run/walk that can be enjoyed at any location around the world. You can walk in your neighborhood, use a treadmill, go to a nearby park, track or participate in another race.  You can compete against yourself—or with other running mates, family or friends—without paying for travel or hotels.  Run your race at your convenience and length and still receive the official and exclusive NEVER QUIT finisher prize.  
For your entry, choose one of these prizes on the following page to wear proudly after your run: You will have mailed to you the following:
Option 1: A $300 appraised NEVER QUIT custom handmade and exclusive necklace (choose this option during registration). Men, this is a perfect finisher prize to get for a loved one, wife and daughter. The new Eagle Finisher Medallion also comes with this entry.
OR
Option 2: The new 3D NEVER QUIT Eagle Finisher Medallion weighing roughly 1 1/2 pounds
You will also receive a:

Beautiful runners bib that you can write who you will NEVER QUIT for sent to you.

NEVER QUIT die cut decal for your car.

NEVER QUIT shirt.

Ask your friends, family and workmates to register and join you.  The NEVER QUIT Virtual Run is a great incentive for company employees too.  Map out your own route, complete your race and have family, friends or your running mates present each other with your NEVER QUIT Finisher prize. 
Take some beautiful pictures with your NEVER QUIT shirt and finisher prize and post them and your results on NEVER QUIT NEVER Facebook page!  https://www.facebook.com/neverquitnever
Remember, you may also want to consider giving your prize to a person you will NEVER QUIT for - It is the perfect "I will NEVER QUIT for you" love gift.  
Get started and sign up for the NEVER QUIT Virtual Race below and remember to send us pictures of yourself and get your blood pressure checked.     
Details
When:   Run any day within this range of now - whenever
Where:  Anywhere, Anytime - Everywhere on the planet!   You can map your own course,
               you choose.
How:     Just tell us where to mail your NEVER QUIT finisher prize and gear that will inspire
               you to NEVER QUIT Living Life!  Brag about your results on Facebook at NEVER QUIT   QUIT VIRTUAL RUN. Price includes shipping in the continental United States.
If you need your items shipped outside the continental U.S., additional shipping fees may apply.                
Who:     All ages and all abilities. Walkers are welcome!
You can also SHOP at for exclusive NEVER QUIT merchandise!

http://www.neverquitnever.com/product-category/all-products/
Please follow along with us on Facebook at NEVER QUIT NEVER and "Like" & "Share" our news.