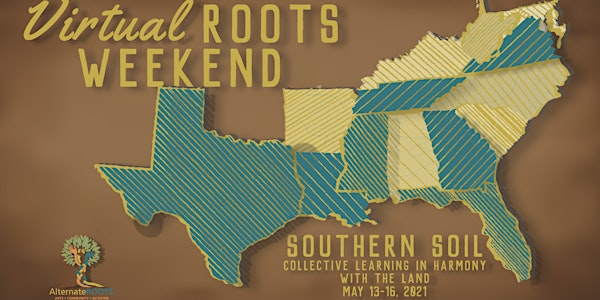 VIRTUAL ROOTS WEEKEND
VIRTUAL ROOTS Weekend! Alternate ROOTS' 2021 theme is Southern Soil: Collective Liberation in Harmony with the Land.
About this event
Please join us for our first-ever VIRTUAL ROOTS Weekend! Alternate ROOTS' 2021 theme is Southern Soil: Collective Liberation in Harmony with the Land, and this ROOTS Weekend will set us off on that journey with a focus on Collective Learning. Over the three-day gathering we'll deepen our relationship to the history of the land, stewardship, and the artistic/organizing practices that help us live in harmony with the land we are on. We hope you'll join us as we deepen our analysis of where we are and where we want to be.
This ROOTS Weekend is totally FREE! General registration for ROOTS Weekend includes the all-conference sessions: Pollination conversations, panels, an evening of art and conversation, Late Night and more.
Workshop registration is ticketed separately; you can choose one of two workshops on both Saturday and Sunday afternoon. All are invited to also register for the Thursday pre-conference training (May 13); YOOTS (folks under 30) are invited to register for an invitation to the YOOTS only post-conference convening the Saturday after (May 22).
The full schedule will be released late April 2021.
QUESTIONS?
Please email info@alternateroots.org, if you have any questions about registration for VIRTUAL ROOTS Weekend.
EN ESPA˜ÑOL
¡Por favor únete a nosotres para nuestro primer fin de semana VIRTUAL DE ROOTS! El tema de Alternate ROOTS 2021 es Suelo sureño: Liberación colectiva en armonía con la tierra, y este Fin de Semana de ROOTS nos pondrá en marcha en ese viaje con un enfoque en el aprendizaje colectivo. Durante los tres días de reunión profundizaremos en nuestra relación con la historia de la tierra, la protección y las prácticas artísticas/organizativas que nos ayudan a vivir en armonía con la tierra en la que estamos. Esperamos que nos acompañes mientras profundizamos en nuestro análisis de dónde estamos y dónde queremos estar.
¡Este fin de semana de ROOTS es totalmente GRATIS! La inscripción general para el Fin de semana de ROOTS incluye las sesiones de la conferencia: conversaciones polinizadoras, paneles, una noche de arte y conversación, sesiones nocturnas y más. Los participantes son invitados tambien a registrarsen para el entrenamiento pre-conferencia el Jueves (Mayo 13); YOOTS (gente menor de 30) son invitados a registrarsen para una invitacion a la conferencia posterior solamente para YOOTS, el Savado despues (Mayo 22).
La inscripción para los talleres se hace por separado; puedes elegir uno de los dos talleres, tanto el sábado como el domingo por la tarde.
El programa completo se publicará a finales de abril de 2021.
PREGUNTAS?
Favor de enviar un correo electrónico a info@alternateroots.org, si tiene alguna pregunta sobre el registro para la fin de semana Virtual ROOTS.