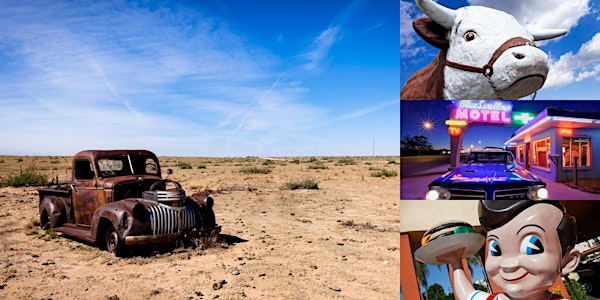 Virtual Road Trip Down Route 66 w/ Pro Photographer Julien McRoberts
Can't make it live? Register and get access to the full replay for one week! New York Adventure Club | www.AdventureClub.com
About this event
Looking to take that epic American road trip you always dreamed of...though from the comfort of your own home? From classic roadside diners to desert ghost towns, it's time to explore the bygone era of one of America's most famous highways, through the lens of one award-winning photographer.
Join New York Adventure Club as we embark on an inspirational photographic journey down Route 66, one of the original highways in America that redefined transportation, culture, and architecture throughout the American West over the course of 50 years.
Led by NYC-based — and American West born-and-bred — photographer Julien McRoberts, this virtual road trip down Route 66 will include:
A brief history of Route 66, from its official inception in 1926 and decertification as a highway in 1985, to how it earned itself nicknames like Mother Road and Bloody 66
A discussion around the heydey of Route 66 and fixture in American culture
A virtual tour along the route using Julien's colorful and eclectic photographs, which highlight the most interesting sites between Chicago and California
Personal stories from her road trip, and what it was like to document the route
Factoids about the former highway's many off-the-beaten-path and roadsides attractions, including American Giants and Duck Architecture
Stick around afterward for a Q&A with Julien — any and all questions about the Mother Road are welcomed and encouraged!
Can't make it live? Don't worry, you'll have access to the full replay for one week!
See you there, virtually!
*Immediately upon registering, you will receive a separate, automated email containing the link to join this webinar
**For the best possible viewing experience, please ensure you're using the latest version of your internet browser — Google Chrome is the most compatible. Exact technical requirements and a webinar user guide will be shared in the automated confirmation email upon registration.
***A full replay of the experience will be available to all registered guests for up to a week
About Julien
Julien McRoberts is a lifestyle brand and editorial photographer/producer based in New York City. Her unique ability to capture intimate cultural moments, places, and people has garnered her a wide variety of clients, including National Geographic Traveler, Calvin Klein Home, USA Today Magazine, Sunset Magazine, Variety, Marie Claire UK, and more.
Much of Julien's work conveys a sense of the stolen glance, from the bustle of the streets of New York City to ancient Native American rituals. Born in the American West, this world is hardly foreign to Julien. "I have the West in my blood but feel equally as home in a fast-paced city environment," she says. Her website is www.julienmcroberts.com.
Testimonials
"Julien is a very good speaker and was able to hold my interest. Her presentation of photos were wonderful." -Marilyn
"Everything. The quality of her photography, her demeanor, the presentation, all of it." -Gigi
"Presenter was FABULOUS, as were her photos. PLEASE see if she will do ALL of the other talks!!" -Deborah "Fun. Interactive. Gorgeous photos. Inspiring." -Kelly
"Magnificent photography. Very well presented" -Amy
"Speaker was really interesting and her photos were great" -Carol
"It was casual, fun, and had overall good vibes. Julien's photography was stunning and I loved her layer back approach. Refreshing. Thank you!!" -Minerva
"Julien was delightful and her work was gorgeous. Nice length of presentation. Good content." -Amy
"The host was extremely knowledgeable and she presented the information exceptionally well. I certainly learned a lot." -Muriel
"Loved the presenter! Loved the content. Packed with lots of fun I fo but went slowly enough for viewers to take in the content!" -Julia
"I love the photos, historical context and passion in what you do." -Maggie
"The entire presentation was well done. The presenter was extremely engaging and the photos were great" -Kenneth
"Great photography and full of interesting facts. Nice presentation well done." -Robert
"Julien's personal knowledge and her visions as a photographer. Very interest in Rt. 66 history and sights." -Kathleen
"I loved seeing all of her photos as well as the older ones she showed. She gave a lot of useful information." -Barbara
"Julien is an outstanding presenter. I was fascinated by her images and stories. As a photographer and someone whom enjoys travel, I definitely motivated now to head to Route 66 in the future!" -Doug
"Julien is engaging and knowledgeable. Her photos are great. I learned a lot about Route 66 and the western U.S., even as someone who has always lived in the area." -Michele
"It was beautiful & informative. Very professionally done. Really impressed." -Lorraine
"Narrator provided so much extra information like where to eat and where to stay. very warm person" -Laurien
"Excellent photography and a look at an America I don't know as an East Coast dweller." -Kathleen
"Loved the photography: the presenter's enthusiasm for the "quirky" was infectious." -Paula
"Well organized, interesting topics and locations, wonderful photographs." -Martin
"Fantastic narration, well thought out presentation, excellent photos & videos. Overall great historical information." -Sharlene
"It was very informative, and encouraged investigation of sites rather than just drive by." -Andrew
"Great photos, accompanied by great stories." -David
"Interesting photos and enthusiastic presenter." -Louis
"I like the organization around a few themes and the variety of photos and videos." -Sue
"It satisfied my curiosity about a legendary aspect of US history that I never really understood." -Anita
"So much fun. Lots of interaction in the chat. Enthusiasm, humor. Just wonderful!" -Pam
"Interesting material, well-presented. Julien clearly passionate about her subject." -Carole
"She's an incredibly good speaker! Photographs also so beautiful." -Lena
"The presenter was knowledgeable and easy to follow!" -Cindy
Disclaimer
By attending a New York Adventure Club experience, you accept our terms of service.
Categories: Virtual, Art & Entertainment