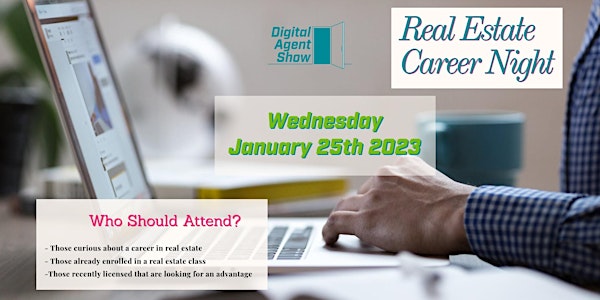 Virtual Real Estate Career Night
Learn the Information and Tools needed to be a successful and productive real estate agent.
About this event
About this event
This virtual career night event is designed to show you the 3 mistakes that nearly every new real estate agent makes and how to avoid them so that you start your career on the right track.
Who Should Attend?
Those curious about a career in real estate
Those already enrolled in a real estate class
Those recently licensed that are looking for an advantage
What this session will cover:
How to select a real estate class
How to complete the class in the least amount of time
How to prepare for the final exam
How to select the right real estate company to work for
What the daily and weekly job of a real estate agent is
How to start cashing checks sooner rather than later
Expect to walk away with your questions answered. There has never been a better time to get into real estate.
There is no obligation if you attend.
RSVP Today - the Attendance link will be sent to you.
About the Host:
Robert Earl has helped hundreds of new agents get into the real estate business over the part 20+ years. Robert is a successful agent, earning over $6,000,000 plus in career commissions and well as a sought after coach and mentor. He is the host of the Digital Agent Show Podcast and Channel.