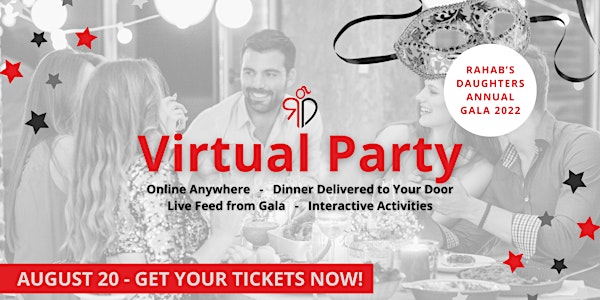 Virtual Rahab's Daughters Annual Gala "Masquerade Ball"
Join us for virtual Rahab's Daughters Annual Gala!
About this event
Each year , Rahab's Daughters hosts a gala to spread awareness about human trafficking, update our supporters on the work we have accomplished that year and cast our vision for future. Our Annual Gala helps to support our efforts in serving and helping to restore lives of women and women with children who have been or are currently enslaved through human trafficking. We hope you'll join us at this year's event to support this important work.
OUR THEME THIS YEAR IS MASQUERADE BALL
We will have great music -Brian Wong of Chicago Dance Factory will not only be DJ'ing the Rahab's Daughters Annual Gala 2022 but he and his team will be giving dance lessons!We are excited also to welcome Jewell Hillery as the Emcee, currently a general assignment reporter at WGN-TV, Ms. Hillery is an award-winning journalist who grew up in Edgewater, attended the University of Illinois at Urbana-Champaign, and landed her first TV job at WTVO, the ABC News affiliate in Rockford, IL. She also earned her Master's Degree in Public Affairs Reporting from the University of Illinois at Springfield.
We look forward to gathering with you virtually. Dinner will be delivered to you home .
Join us for this fun event while supporting great cause.