VIRTUAL Queen of Hearts Gala to benefit The Heart2Heart Foundation.
About this Event
Join us for an evening of fun, food and great music as we celebrate Heart Month, honor our incredible volunteers and raise funds to continue the mission of The Heart2Heart Foundation.
Feel free to dress in red, wear your tiara and enjoy an evening safely at home. Your Virtual Queen of Hearts Gala Ticket is valid per household, so include the whole family!
Your VIRTUAL Queen of Hearts Gala ticket includes a livestream presentation of Time Warp, one of the award-winning original productions at Calvin Gilmore's Carolina Opry Theater in Myrtle Beach, South Carolina.
This family-friendly show features the best music of the 60s, 70s, and 80s, blended with rich multimedia screens, special effects, and elaborate costuming. This fast-paced, high-energy show will take you back to the decades that brought us the best in American popular music!
Presented by the same award-winning cast as The Carolina Opry show, you'll see new male vocalist, 19-year old Rory John Zak, national recording artist Brad Long, hip-hop cloggers All That! (famous from NBC's America's Got Talent), powerhouse vocalists Christie Templeton, Tangena Church and Chas Croft Sorrells, fiddling champion Trent Wideman and bluegrass virtuoso Gary Brown.
As a prelude to the show, we will introduce our 2021 Companies with Heart Champion, Outstanding Community Partner and Volunteer of the Year award recipients.
You can also choose the Virtual Queen of Hearts Gala package to add on our exclusive Charcuterie Experience with Shonali Thomas of SplenDishes and a custom Wine Tasting with Sabrina Gast and specially-selected Scout and Cellar Wines.*
All Virtual Queen of Hearts Gala guests are invited to participate in our Bucket List Online Auction sponsored by AmFund. Our annual silent auction features wonderful items and experiences including trips to incredible destinations. Silent Auction winners will have three years to schedule their inclusive trips through AmFund.
- - - - - - - - - TICKET OPTIONS - - - - - - - -
Gala Ticket - Time Warp Show access 7:00-9:00pm . . . $25 donation
Gala Package: Pre-show at 6:00-700pm & Time Warp 7:00-9:00pm . . . $50 donation
- - - - - - - - - - - - - - - - - - - - - - - - - - - - - - -
Proceeds from the event will fund the heart health education, screening and scholarship program of The Heart2Heart Foundation. As a certified 501(c)(3) nonprofit organization, donations may be tax-deductible as allowed by law. EIN# 46-1239466
NOTE: Visit our Livestream FAQ page if you have any questions prior to ordering your show tickets or package. All tickets are nonrefundable.
*Guests ordering the optional Charcuterie and Wine Tasting package must be 21 years of age or older on or before February 5, 2021. Verification of age will be required at time of pick up or delivery of the wine tasting package. No exceptions will be made. Tickets are nonrefundable.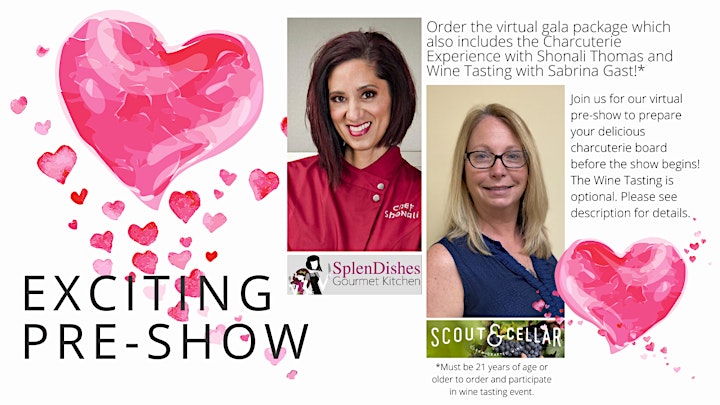 Date and Time
Location
Refund Policy