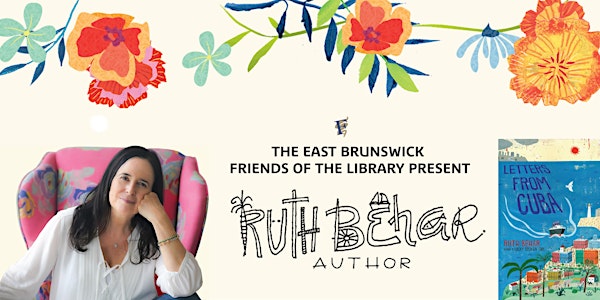 Virtual Program with Award-Winning Author Ruth Behar
She was the first Latina to win a MacArthur Fellowship and the author of four books.
About this event
EAST BRUNSWICK—The East Brunswick Friends of the Library are hosting a virtual author program with award-winning author Ruth Behar on Thursday, November 19 at 7:30 pm.
Behar was born in Cuba to a Jewish family, with her maternal grandparents from Poland and Russia and her paternal parents were from Turkey with Sephardic Jewish heritage. Her family then immigrated to New York when she was at the age of five. A graduate of Wesleyan University and Princeton University, she is a cultural anthropologist and currently a professor at the University of Michigan. She was the first Latina to win a MacArthur Fellowship, and her honors also include a John Simon Guggenheim Fellowship, a Distinguished Alumna Award from Wesleyan University, an honorary doctorate in Humane Letters from the Hebrew Union College, and being named a "Great Immigrant" by the Carnegie Corporation.
Her strong connection to her Jewish Cuban heritage has impacted her literary career. Her debut novel Lucky Broken Girl won the Pura Belpre Award. She has written two memoirs, An Island Called Home and Traveling Heavy. She even wrote a children's picture book Tia Fortuna's New Home.
Behar's latest novel, Letters From Cuba, is based on her family's history. It chronicles a young Jewish girl and her family who flee Poland before World War II. This middle-grade novel is inspired by her grandmother's life.
This program is free and open to the public. It will be held on the Zoom streaming platform. For more information about this program or to register, visit www.ebpl.org/friends.
This program is hosted by the East Brunswick Friends of the Library. This is a group of nonprofit volunteers who work to support the library. Membership information can be found online at www.ebpl.org/friends.