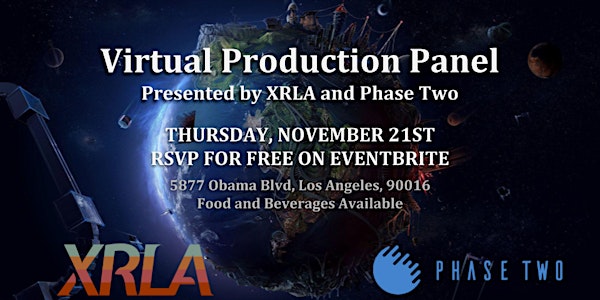 Virtual Production Panel presented by XRLA
On November 21st, join a group of experts for an evening of all things virtual production!
When and where
Location
Phase Two 5877 Obama Boulevard Los Angeles, CA 90016
About this event
Welcome XRLA and friends!
Virtual production techniques involving real-time engines are becoming mainstream within media creation pipelines, and there's a shortage of experts in this quickly growing field. Virtual production sits at the crossroads between emerging technology such as virtual reality, and existing workflows found in traditional visual effects pipelines.
At this event our experts will be discussing some of the most popular strategies currently used in virtual production. Join us as we explore roles and techniques for pre-production, on-set supervision, and post-production. Food and beverages will be provided, and the event is FREE!
The event will be held at Phase Two in Culver City, November 21st 7pm-9:30pm
5877 Obama Blvd, Los Angeles, CA 90016
Panelists:
Daniel Gregoire - CEO of Halon Entertainment
https://www.halon.com/
Andrew Cochrane - Head of Immersive Content at Springbok Entertainment.
http://www.andrew-cochrane.com/biography/
Eliot Mack - Founder of Lightcraft Technology
http://www.lightcrafttech.com/
PARKING
The lot behind Phase Two is available for parking, but may fill up very quickly! Please look for signs and be careful not to park in a NON Phase Two spot. If the lot fills up, here are some other places to check:
- Lenawee Ave across the street from Phase Two (5 min walk)
- Bowcroft St, follow Lenawee Ave across from Phase Two and turn right. (5-10 min walk)
- Bowesfield St, East of Phase Two along Obama Boulevard towards la cienega, turn left and go north a couple blocks. (10 min walk)
- Neighborhood just east of Numero Uno Pizza on Obama Blvd. (10 min walk)
- Target next door AT YOUR OWN RISK!
XRLA is a group for anyone interested in all immersive technologies including 360 video, VR, AR, MR, VFX, and everything in between. We range from developers to businesses that support the space.
We have consistent meetups all over Los Angeles where we can meet, mingle, and check out what other developers are doing with emerging technologies. The members of XRLA are always excited to learn more from each other as we bring up different developers to share our challenges and successes.
Make sure to join the conversation on our other channels!
Slack Invite (https://join.slack.com/t/xrla/shared_invite/enQtNDgzMzUzMDI5NTc0LTBkODM4OGQyNzljOTNmMzVkNGYzYTU0NzM4MjA4YzJkYjExZThlNDRiMmZjNWUyNjE1ZDg1YjcyZDlmNmRjMmY)
XRLA Twitter (https://twitter.com/XRLAcommunity)
XRLA Facebook Page (https://www.facebook.com/XRinLA/)
XRLA Community Facebook Group (https://www.facebook.com/groups/407871566376748/?fb_dtsg_ag=AdyzJIOMwhArPEy_95YmwMJ9PU1m9FuA9_r7jLFIYEtplA%3AAdwRndPT--e9Q1Z6AR4-cGuEii2c-xqFDQG2vENjO7yEZA)