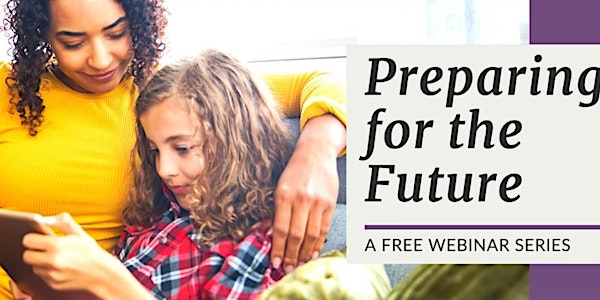 VIRTUAL Preparing for the Future: Special Needs Planning Symposium
Preparing for the Future: Special Needs Planning Symposium
Refund Policy
Contact the organizer to request a refund.
Eventbrite's fee is nonrefundable.
About this event
VIRTUAL Special Needs Planning Symposium
What you will learn:
Legal Tools: Gain a basic understanding of Special Needs Trusts and ABLE accounts.
Emily Kile, Attorney, Kile Law Firm, P.L.L.C.
Guardianship: Gain a basic understanding of guardianship. Kelly Kral, Dyer, Bregman & Ferris, P.L.L.C
Budget and Financial Planning: Establishes current and future anticipated monthly budgetary needs of the person with special needs. Incorporates recreation, employment and residential needs and identifies funding resources and considers the long-term effects of inflation.
Karen Starbowski, CLU, ChSNC, Special Needs Planner MassMutual, Arizona
Government Benefits: Understand government benefits & techniques to ensure a lifetime of eligibility. Charlotte Johnson, Elder Law of Arizona
Wednesday, October 12, 2022
Virtual Zoom Webinar | 5:00-7:00 p.m.
SCHEDULE
5:10 – 5:30 p.m. Emily Kile, Legal Tools
5:30 – 5:50 p.m. Kelly Kral, Guardianship
6:00 – 6:20 p.m. Life Care Planning
6:20-6:40 p.m. –Karen Starbowski, Lifestyle Planning
6:20-6:40 p.m. Speakers Panel/Q & A
(A Zoom link will be sent to the email provided during registration prior to the event.)
Event Contact:
Beth Salazar, SARRC Planned Giving Manager
bsalazar@autismcenter.org | (602) 606-9876
ORGANIZER:
SARRC Planned Giving Professional Advisory Council
Emily Kile – Vice-Chairperson of the Council
Attorney, Kile Law Firm
Karen Starbowski - Special Care Planner, MassMutual Arizona, MassMutual Arizona
Heather Bull - Fiduciary, The Families Advocate, LLC
Robin Cochran - Attorney, Foothills Caring Corp
Lindsey Jackson - Private Wealth Advisor-Trusts, FineMark National Bank & Trust
Charlotte Johnson - Attorney, Elder Law of Arizona
Stephanie King – Vice President, Charles Schwab
Kelly Kral - Attorney, Dyer Bregman & Ferris, PLLC
Jill McIlroy - Philanthropic Advisor, Arizona Community Foundation
Troy McNemar - Attorney, McNemar Law Offices, P.C.
Jackie Orcutt - First Vice President, CBRE
Jay Parke - Partner, CPA, Walker & Armstrong, LLP
Megan Selvey - Attorney, Bivens & Associates, P.L.L.C.
Annette Stertzer - V.P. -Senior Trust Officer, Bank of America, N.A. – U.S. Trust
Emily Taylor - Attorney, Taylor & Lihn, PLLC
Janet Tubbs - Medicare Consultant, Insurance Professionals of America
Jacquie Weflen - Financial Advisor, TFO Phoenix
Kathy Bosco – Emeritus, Grandparent Group Founder & Leader
Meighan Harahan – Emeritus, Principal, Waterfront Financial, LLC