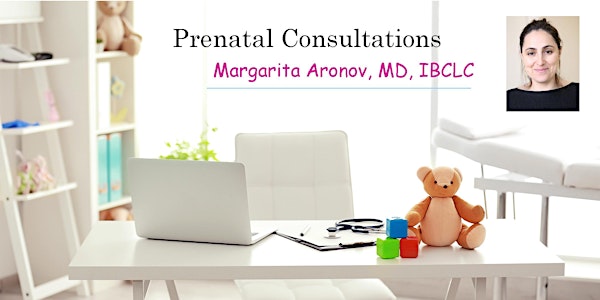 Virtual: Prenatal Consultation - Meet Dr. Margarita Aronov,MD,Pediatrician
This Prenatal Consultation will be held through a Virtual Meeting Platform: Zoom.
About this event
This Prenatal Consultation will be held through a Virtual Meeting Platform: Zoom.
Zoom login & information will be sent out a few days in advance of the scheduled prenatal consultation.  We encourage all families to join with video & audio and be participants in the session.
Find facts about COVID-19 and the care options provided by Mount Sinai Health System experts.  
www.mountsinai.org/covid19
-----
The best way to choose a pediatrician is to schedule a free prenatal consultation. During this 30-minute in-person meeting, you'll be able to sit down with Dr. Aronov to discuss her philosophies on parenting methods, baby's first days, breastfeeding, antibiotics, immunizations, office protocol, emergencies, communication, and anything else that comes to mind. 
Margarita Aronov, MD is a board-certified pediatrician at Mount Sinai Doctors, seeing patients Monday - Saturday in Brooklyn Heights. Trained in New York City, she is certified by the American Board of Pediatrics. She was awarded her medical degree from Albert Einstein College of Medicine and completed her residency in Pediatrics at Children's Hospital at Montefiore. Prior to joining Mount Sinai Doctors, she worked at SUNY Downstate at LICH, where she supervised the residents, and served as the Medical Director of Reach Out and Read, a national project designed to promote early childhood literacy through routine doctor's office visits.  As an international board certified lactation consultant, Dr. Aronov promotes breastfeeding and treats a wide array of breastfeeding challenges. She has a particular interest in pediatric nutrition, prevention, and treatment of sleep problems. She lives in Brooklyn with her husband and children. Dr. Aronov is fluent in Russian and knows basic Italian.
ZocDoc Reviews: https://www.zocdoc.com/doctor/rita-aronov-md-56921
Please select a date and register for a prenatal consultation
The prenatal consultation starts promptly at 6pm
If you have any questions or would like to register via phone, please call us at 929-210-6000
1. Are you board-certified?
Yes, American Board of Pediatrics
2. Are you part of a group practice?
Mount Sinai Doctors, located at 300 Cadman Plaza West, is a two-floor multispecialty practice with a walk-in urgent care center and more than 35 specialties, including primary care, cardiology, endocrinology, gastroenterology, general surgery, nephrology, OBGYN, ophthalmology, orthopedics, pulmonology, radiology, and urology. Please visit our website for the complete list: www.mountsinai.org/bh
3. What specialists are on staff?
The pediatrics department consists of four additional full-time general pediatricians, as well as pediatric specialists including a pediatric gastroenterologist, a pediatric orthopedist, a pediatric endocrinologist, pediatric neurosurgery, pediatric cardiology, pediatric urology and an allergist, who sees pediatrics. All physicians are conveniently located in the same building, so we're able to easily share medical records and collaborate on care.
4.  Do we offer Telemedicine Visits?
Yes - we our pediatrics team offers telemedicine/video appointments to maximize the patient experience and efficiency. We recognize during this heightened alert about COVID-19, that this convenient service is extremely helpful by reducing your potential risk of exposure. We predominantly use video visits method for wellness new and follow-up visits that do not require a physical exam. Find out more about Telemedicine: https://www.mountsinai.org/locations/msd-brooklyn-heights/services/telemedicine-appointments
Additional pediatricians at Mount Sinai Doctors, 300 Cadman Plaza West
Organizer of Virtual: Prenatal Consultation - Meet Dr. Margarita Aronov,MD,Pediatrician
Mount Sinai Doctors, located at 300 Cadman Plaza West, is a two-floor multispecialty practice with a walk-in urgent care center and more than 35 specialties, including Adolescent Medicine, Allergy, Cardiology, Dermatology, Diabetes Education, Endocrinology, Gastroenterology, General Surgery, Infectious Disease, Maternal & Fetal Medicine, Nephrology, OBGYN, Ophthalmology, Optometry & Optical Shop, Orthopedics, Pediatrics, Pulmonology, Radiology, Rheumatology, Travel Medicine, Urology, and Vascular Surgery. The practice is located at 300 Cadman Plaza West, on the 17th and 18th floors, in Brooklyn Heights. You can make appointments online at http://www.mountsinai.org/bh or via ZocDoc at http://bit.ly/29LNAIG