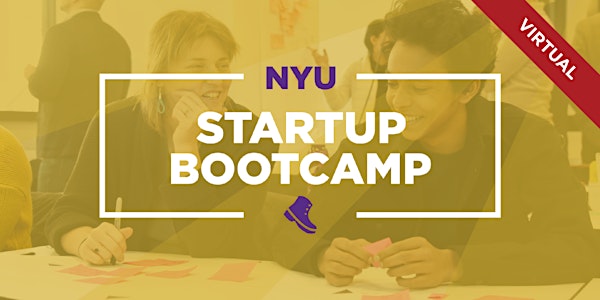 VIRTUAL Pre-Bootcamp Workshop #1
The Startup Bootcamp at the NYU Entrepreneurial Institute is the first stepping stone in the award winning NYU Startup Accelerator Series.
About this event
Virtual Pre-Bootcamp Workshop
Do you have a scalable business idea? Are you interested in applying to the Startup Bootcamp?
Join us for an interactive workshop via Zoom to help you get started! This workshop will guide you through how to:
Write an effective Business Thesis
Identify a customer need vs a want
Identify a problem your team is capable of solving for your initial target customer
Approach solving problems from a customer perspective vs systems perspective
Learn what we are looking for in Bootcamp applications
So, If you are thinking of applying to NYU Startup Bootcamp or want to learn how to articulate the idea from a customer's perspective, please sign up.
Please note that this workshop is only open to current NYU community members.
Startup School is a semester-long workshop series that provides the training and resources to successfully launch and grow a startup. No matter where you are in your startup journey, Startup School has something to offer. Learn more about the series here.
The NYU Entrepreneurial Institute provides reasonable accommodations to people with disabilities. Requests for accommodations for events and services should be submitted at least two weeks before the date of the accommodation need. Please email entrepreneur@nyu.edu for assistance.
Zoom links will be sent to those who RSVP.