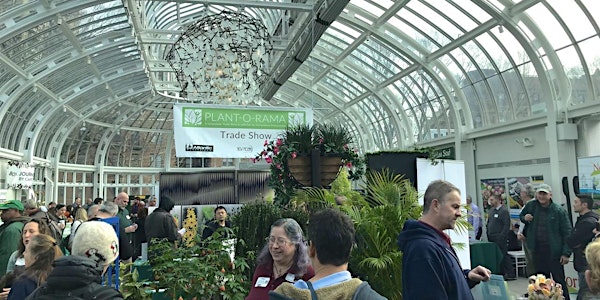 VIRTUAL PLANT-O-RAMA 2021
PLANT-O-RAMA is Metro Hort Group's annual 1-day Symposium & Trade Show for Horticulture Professionals in the NYC tri-state region.
Refund Policy
Refunds up to 7 days before event
Eventbrite's fee is nonrefundable.
About this event
VIRTUAL PLANT-O-RAMA - due to the COVID-19 pandemic, our 25th ANNIVERSARY event is online; anyone can attend from outside the NYC-tri-state region. Event times are Eastern Standard.
PLANT-O-RAMA is Metro Hort Group's largest program of the year attracting 750 - 1000 gardeners, designers, nurseries, growers, landscape maintainers, arborists, and educators working in public parks, botanical gardens, and private/corporate landscapes..
FEATURED SYMPOSIUM SPEAKERS:
Adrian Benepe, 9:00am - 9:45am; Gardens and Parks in the Age of Climate Change & Pandemic: Challenges, Refuges, and Natural Solutions
Newly appointed President and CEO of Brooklyn Botanic Garden and former Commissioner of NYC Parks and Recreation (2002-2012), Adrian Benepe welcomes the 25th anniversary PLANT-O-RAMA. Brooklyn Botanic Garden has been our on-site host and Plant-O-Rama partner all these years (even now virtually). The pandemic has underscored the intrinsic human value of and need for public gardens, parks, and lands, but also laid bare many social and cultural injustices. The challenges are many as we search for solutions and move forward.
Signe Nielsen, 9:45am -10:30am; Little Island: A Refuge in the Storm
Signe Nielsen offers a sneak peek at the emerging landscape at Little Island (formerly called Pier 55), a new public pier park arising in the Hudson River. The pier's unusual form, topography, and landscape are deeply influenced by climate-positive initiatives including raising the pier well above future sea level and storm surge, minimizing shade on marine life/aquatic species, using locally sourced materials, fabricators and labor, planting appropriately for climate change and high value to pollinators and birds. The new public park will be a refuge for New Yorkers to get exercise, be mentally restorative, and accommodate physical distancing while socializing outdoors.
Jennifer Jewell, 10:30am -11:15am; The Earth in Her Hands: Growing a More Resilient Future
Jennifer Jewell is creator and host of the award-winning public radio gardening program and podcast CULTIVATING PLACE: Conversations on Natural History and the Human Impulse to Garden. Based on her recent book The Earth in Her Hands: 75 Extraordinary Women Working in the World of Plants, Jennifer talks to us about the profoundly positive impact women and their work have on the future of our world - aesthetically, environmentally, culturally, and economically - making them joyful, encouraging, and powerful role models, leaders, and inspirations for us all. Three of the women profiled in Jennifer's book speak to us this year at Plant-O-Rama.
Leah Penniman, 1:00pm -1:45pm; Black Land Matters: Ending Racism & Injustice in our Food System & Gardens
Some of our most cherished sustainable farming practices - from organic agriculture to the farm cooperative and the CSA - have roots in African wisdom. Yet, discrimination and violence against African-American farmers has led to our decline from 14 percent of all growers in 1920 to less than 2 percent today, with a corresponding loss of over 14 million acres of land. Black communities suffer disproportionately from illnesses related to lack of access to fresh food and healthy natural ecosystems. Soul Fire Farm, cofounded by author, activist, and farmer Leah Penniman, is committed to ending racism and injustice in our food system.
Midori Shintani, 1:45pm - 2:15pm; Tokachi Millennium Forest: Gardening with Wild Nature
Tokachi Millennium Forest was originally established to offset carbon footprints by Tokachi News Paper Co. in Hokkaido, the northernmost island of Japan. Later on, the idea developed to share and preserve the remarkable natural environment for future generations. Midori Shintani introduces the story of this unique modern garden movement in Japan and shares how she and her garden team take care of the native forests and the cultivated garden areas. She discusses how her gardening methods root in the accumulated wisdom of ancient Japanese belief.
Margaret Roach, 2:15pm - 3:00pm; New Ways to Garden: Changing Practices for Professionals & Home Gardeners
Trends in plants and planting design have changed. Margaret Roach, creator of awaytogarden.com, former editor-in-chief of Martha Stewart Living, and 2020 New York Times garden columnist, discusses the most dramatic and important shifts in "best practices" for managing landscapes, residential gardens, and urban spaces. How do we better educate and sell services to clients? Here are 10 lessons Margaret has gleaned from interviewing experts in the field, from timing our garden cleanups to taking another look at patented cultivars.
PLANT-O-RAMA TRADE SHOW
36 Exhibitors, each with a Virtual booth; 9am-3pm
Atlantic Nurseries, Inc. - distinctive plants & products for 50 years
Bartlett Tree Experts - comprehensive tree care & planting
Barton Nursery Enterprises Inc. - quality landscape plants and products
Bayard Cutting Arboretum - Long Island, NY, public garden
Beds & Borders, Inc. - out-of the-ordinary annuals & perennials
Blondie's Treehouse Inc. - design/build, green walls, interior plants
BIPOC Hort - professional support, educational advocacy group
Cape Lily - floral Design & garden travel
Capital Garden Products Ltd. - fiberglass garden pots & water features
Cavano's Perennials, Inc. - fine container-grown perennials, grasses, ferns
Colorblends Wholesale Flowerbulbs - quality tulips, daffodils & specialty bulbs
Elevations Urban Landscape Design - artful fusion of horticulture & architecture
Garden and Structures Solutions, LLC - consulting for the green industry
Glover Perennials - specialty groundcovers & perennials
Hardscrabble Farms Inc. - trees & quality plants for landscapes
Issima - specialty nursery, under-cultivated, garden worthy plants
JC Ralston Arboretum - acclaimed landscape plant collections at NCSU
Janet Mavec Jewelry - exquisite jewelry inspired by nature
Kind Earth Growers - native perennials for ecological restoration
Madison Square Park Conservancy - urban park in NYC's Flatiron and NoMad districts
Metro Hort Group – association of hort professionals in NYC tri-state region
New York Botanical Garden - premier 250-acre public garden in Bronx
New Growth Designs - exquisite lifelike flowers & greenery
New Moon Nursery - plugs & liners of North American native perennials/grasses
North Creek Nurseries - quality plugs & liners with focus on eastern U.S. natives
Organic Mechanics Soil Company - quality organic potting soil & amendments
PlantShed - premium flowers, indoor plants, botanical products
Pennoyer Newman - distinctive lightweight garden pots cast from estate originals
Rebecca Cole GROWS - garden, landscape, interior & floral design
Rooftop Drops - premier irrigation & landscape lighting for rooftops & balconies
Seibert & Rice - fine Italian terra cotta pots from Impruneta, Italy
The Trust for Govenors Island - park, historic buildings, climate initiatives
Tintori Castings - custom structural & architectural planters
Town & Gardens Ltd - comprehensive garden design, build & maintenance
Wave Hill - Bronx public garden and cultural center on the Hudson River
Womanswork - garden and work gloves designed for women